New York NY – As CEO Jamie Dimon testifies in front of the House Financial Services Committee Hearing, a large coalition of activists and community leaders rallied across the country on April 10, 2019 in a national day of action holding the world's worst funder of fossil fuels, JPMorgan Chase, accountable for its financing practices. In New York City, activists unfurled a giant banner in Park Avenue across JPMorgan Chase headquarters.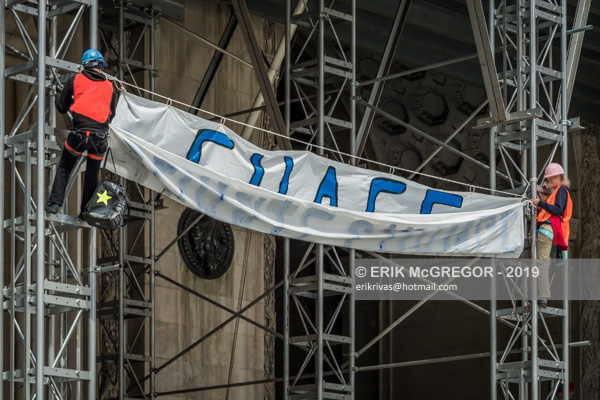 "Just last month, JPMorgan Chase and Wells Fargo –– the biggest bankers of fossil fuels worldwide –– announced they would stop financing the private prison industry. That came on the heels of a relentless, grassroots pressure campaign and is a testament that public pressure works," said Laurel Sutherlin, a spokesperson at Rainforest Action Network. "We mobilized today to demand that Chase make a similar announcement with fossil fuel funding, and we won't stop taking action until they do."
Dozens of demonstrations sprung up outside Chase branches spanning coast to coast, as Chase CEO Jamie Dimon testified at the House Financial Services Committee hearing, "Holding Megabanks Accountable." Activists in D.C. disrupted the committee hearing this morning with the message that Chase is the top funder of fossil fuels. In New York City, activists dropped a banner at Grand Central Station across Chase's headquarters. In Seattle, protestors have vowed to shut down 44 Chase bank branches.
Since the Paris Agreement, JPMorgan Chase has provided $196 billion in finance for fossil fuels. According to the Banking on Climate Change 2019 report, Chase is by far the world's worst banker of fossil fuels and fossil fuel expansion, making it the worst banker of climate change. JPMorgan Chase's volume of finance for fossil fuels 2016-2018 is a shocking 29% higher than the second placed bank, Wells Fargo; and it's $67 billion in finance for the companies expanding fossil fuels is 68% higher than that of Citi, in distant second place.
"Chase is funding this climate crisis at an increasing rate and we need to call them to account for their actions," says Tess Geyer, Climate and Energy Organizer at Rainforest Action Network. "Today's funding of these industries equals tomorrow's climate chaos."
According to the United Nations' Intergovernmental Panel on Climate Change report, emissions must be halved within 12 years in order to limit the Earth's temperature rise to 1.5 degrees Celsius. In order to align with the 1.5 degree target, banks must end their support for fossil fuels and cease financing further expansion of any fossil fuels.
© Erik McGregor – erikrivas@hotmail.com – 917-225-8963
PLEASE CONSIDER SUPPORTING MY WORK