New York, NY – Members of Rise and Resist gathered at The Oculus on February 21, 2019 for a silent protest. Their message is that immigration is not a threat to national security. There is no national security emergency on the border; there is a humanitarian emergency that can not be remedied by building a wall, militarizing the border, or building detention camps/prisons. This is the third in a series of four weekly protests in February.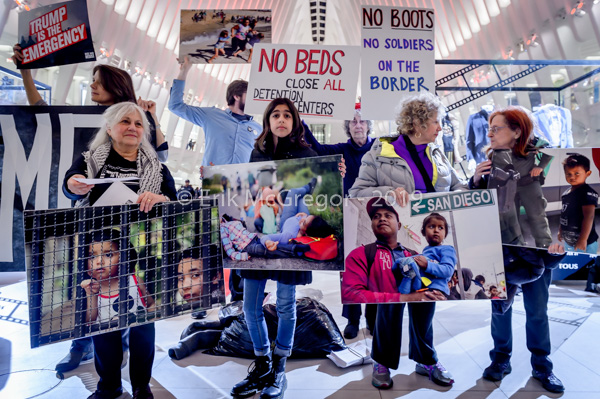 Participants carried banners, photographs, and placards to remind everyone that there are thousands of refugees being prevented by the U.S. Department of Homeland Security from legally seeking asylum at a port of entry.
Seeking asylum is not a crime, it is a right guaranteed by the Universal Declaration of Human Rights. It is also established in U.S. law. Yet our government treats asylum seekers not only as criminals but as enemies of the state.
Despite already getting billions for his racist wall and deportation force, Trump followed through on his threat to declare a fake national emergency. History will judge this Congress on how it responds.
This kind of illegal power grab is exactly why we have three branches of government. Under the National Emergencies Act, Congress can revoke a declaration of emergency. Congress has the power and responsibility to use its authority to stand up to this racist autocrat now, before our democratic norms and institutions are eroded any further.
This unconstitutional power grab gives Trump vast new authority to undermine our democracy and supercharge his white supremacy. Declaring a state of emergency gives him access to more than 100 statutory powers that would allow him to override the laws that protect our civil rights and civil liberties and unleash a range of nightmarish scenarios at the border and in communities across the country.1 He'll be more able than ever to escalate attacks on immigrants, communities of color, Muslims and Black and Brown people.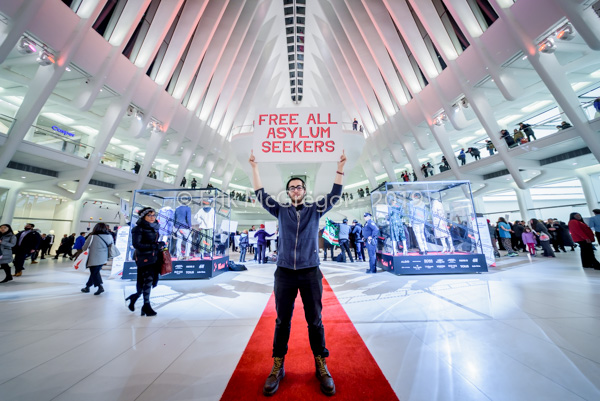 Congress has the power to revoke Trump's declaration of emergency, but it will only happen if Democrats in the House of Representatives lead the way. If the House of Representatives acts, then the Senate will have to vote as well. That means Republicans will have to go on record with a vote to defend the Constitution and our communities or endorse Trump's illegal power grab.
© Erik McGregor – erikrivas@hotmail.com – 917-225-8963
PLEASE CONSIDER SUPPORTING MY WORK