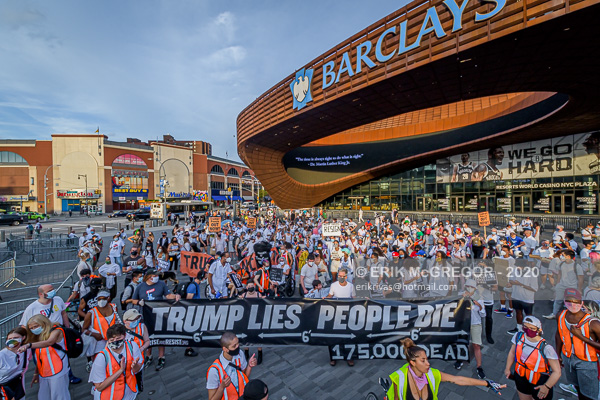 New York, NY – On the eve of the Republican National Convention, August 21, 2020 a coalition of Americans reeling from the COVID-related deaths of loved ones, unemployment, and all this crisis has wrought gathered at Barclays Center to turn their sadness and frustration into protest by organizing the March for the Dead, Fight for the Living, a candlelit procession across the Brooklyn Bridge to the Trump Building at 40 Wall Street in Manhattan with a simple message to the Trump administration and beyond—start taking responsible action to save lives and end suffering.
As part of the protest activists with the "March for the Dead, Fight for the Living" and The Illuminator projected 80ft tall images on the side of the Verizon Building at the entrance of the Brooklyn Bridge with messages related to the march.
Over 170,000 Americans have lost their lives to COVID-19. Our grandparents, our parents, our siblings, our children, our neighbors and friends. And it's hit Black, Hispanic, Native American communities, and the elderly the hardest. On August 21st, we'll march to mourn our loved ones who have passed, and we'll fight in their honor to prevent more death and suffering. March for the Dead. Fight for the Living.
The US federal government has abandoned us at a time when we needed it most, and complicit Republicans across the country continue to support Trump and his administration's murderous policies.
Our demands:
• New federal leadership. Now. We can't wait until November. Donald Trump should resign.
• Sound federal and state coronavirus policies based on the best scientific information available.
• Address profound inequality and inequity in access to healthcare and basic services.
• Release incarcerated people and detained immigrants, all at greater risk for COVID. Do not leave them to die. Stop deporting COVID-19 sufferers.
• Support international non-profit development of a vaccine that is free and available to all.
• Stop the defunding of the World Health Organization.
• Provide ample monetary relief to the unemployed, sick, elderly, communities of color, and all people in need.
• Stop denying the right to vote and stop stymieing efforts to make participation safe.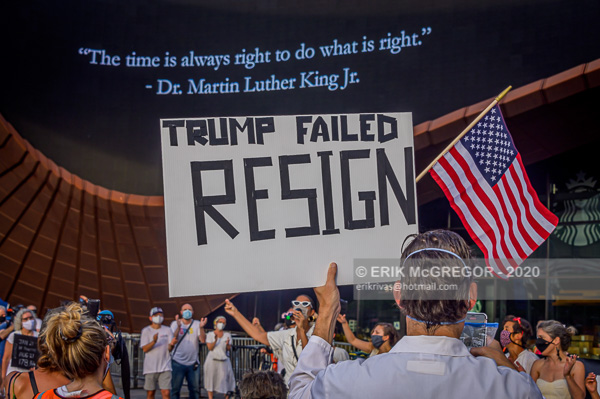 We deserve to mourn. We deserve to cry out in grief, and in anger. And we will exercise our right to demand change – not just in leadership, but in a system that crushes human life to the benefit of the few.
"Enough with the petulant refusal to wear masks, the distractions and the fighting. We need real, mature leadership to prevent more deaths and get this country back on track," said Martin Quinn, activist with Rise and Resist. "Why after 160,000 deaths do we still not have a national plan to get out of this hell?"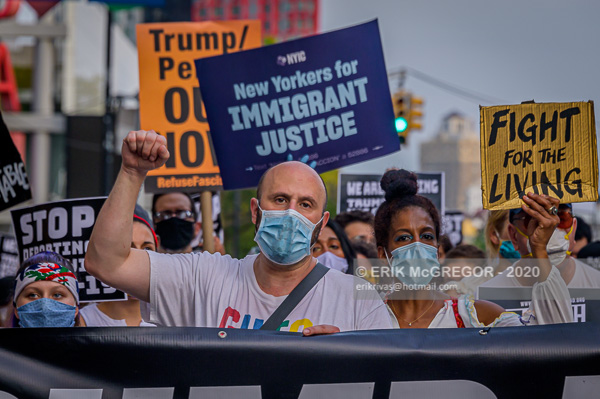 "Trump and his cowardly enablers, they all have blood on their hands," said Quinn. "I don't know how else to channel my pain but to pressure them and the rest of the country to do better. Everyone needs to start doing everything in their power to save lives."
"America is alone among nations in its profound failure to confront this pandemic," said Justin Hendrix, an organizer of the march. "No American government has ever failed the people this acutely. No President has ever been so malign and incompetent. He has to go, and all of his accomplices with him."
Much of the anger from march organizers and participants is directed at a presidential administration that they feel hasn't been held accountable for mass death, illness and suffering. From the insistence that the virus would just "disappear", to leaving states to battle each other for PPE while thousands die every day, to the basic refusal to wear a mask in public when that simple act is proven to save lives, they are complicit. But state and local governments can do more as well: make health care accessible for all, free incarcerated people currently in prison death traps, and provide more relief to folks facing eviction, homelessness, and starvation.
Organizer groups included: March for Truth, Rise and Resist, New York Immigration Coalition, NYC United Against Coronavirus, Center for Popular Democracy, Empire State Indivisible, Indivisible Nation BK, Indivisible New Rochelle, Upper West Side MoveOn/Indivisible Action Group
© Erik McGregor – erikrivas@hotmail.com – 917-225-8963
PLEASE CONSIDER SUPPORTING MY WORK