NEW YORK, NY – On Monday, August 17, 2020, a coalition of photojournalists, journalists, reporters, writers, lawyers, professors, filmmakers, and political allies, held a press conference to denounce the overly-broad proposals by the New York City Police Department, which threaten press freedom and are a blatant attempt to control and censure the activity of the working press and to call for the NYPD press credentialing process to be transferred to another agency.
"The NYPD press badge is not so much a badge as it is a bullseye, a means for the NYPD to target, control and censor the press. If an NYPD press credential means you must stand away from the story and kowtow to constitutionally questionable edicts from people in power, or you need to play a quid-pro-quo game with the NYPD in order to report on a story, then that is not a functioning free press. It is functioning as a mouthpiece for the very entity who is determining what part of the story we can cover." –Michael Nigro, Multimedia Journalist.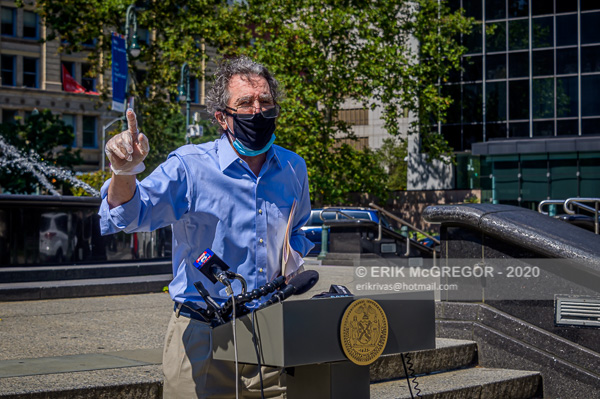 "The history of the NYPD and how its exercise of its authority over the issuing and revocation of press credentials has been unsatisfactory. Transferring this function to another entity is warranted. Freedom of the Press strengthens us as a city. It keeps us informed and holds government officials including police officers accountable. Let's continue to respect and support journalists and photojournalists to get access to the news. They are our eyes and ears." –Norman Siegel, civil rights Attorney.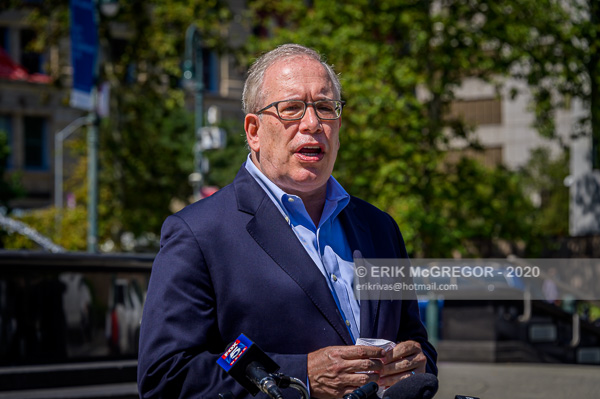 "Our democracy depends on a free, unfettered press, and it's clear that we cannot entrust that essential principle to the sole discretion of law enforcement. That is why I have called on the Mayor to remove the responsibility for issuing press credentials from the NYPD. We need to take action to protect not only our local press corps but the First Amendment ideals upon which our nation was founded." –Scott Stringer, Comptroller of New York City.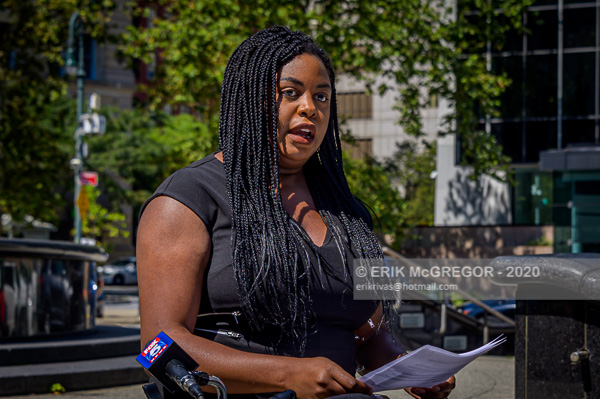 "One of the foundations of our democracy is freedom of the press, and we must be acting to protect that principle, not limit it. It's clear that the NYPD should not have unilateral power to issue and revoke press credentials, and it is past time to move this authority to another, more appropriate agency. We depend on the press to provide transparency and accountability, but they can only fulfill this duty if they are unencumbered in their ability to access information and events." –Quote by Tish James, Attorney General of New York, read by Morgan Rubin, Deputy Press Secretary for the Office of New York State Attorney General Letitia James.
"Journalists are essential workers and New York City needs them to be able to do their jobs. It's appalling that instead of opening the door to a free press after New York's Black Lives Matter protests, the NYPD is trying to shut it. I'm with Comptroller Stringer and my elected colleagues: it's time to take credentialing out of the NYPD. I look forward to seeing progress on this soon, and will explore legislation in Albany."–State Senator Brad Hoylman.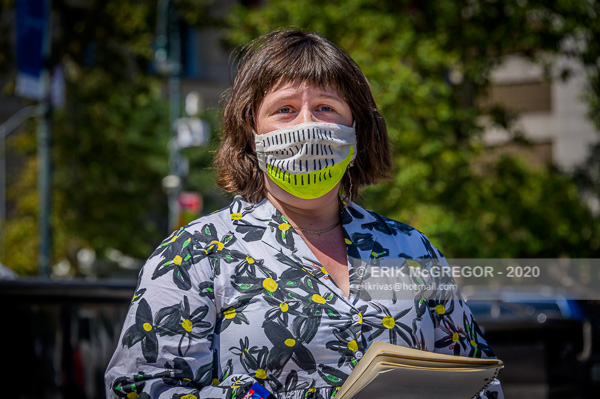 "It is absolutely vital that we separate the press credential process from the NYPD. We need a free and thriving press to hold our institutions accountable, now more than ever." –Assemblywoman Emily Gallagher.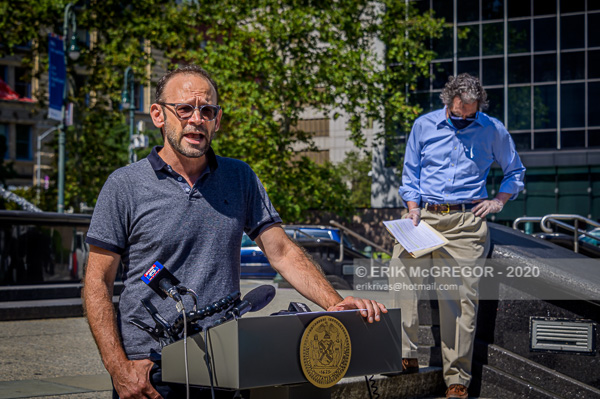 "The NYPD stands in flagrant violation of our Constitutional rights when it brogates to itself the power to decide who is and who is not a journalist. It stands in flagrant violation of our Constitutional rights when it openly impedes and restricts our work. It stands in flagrant violation of our Constitutional rights when it uses censorship and coercion to distort the truth and lie to the public. This battle is not simply about securing and protecting the Constitutional rights of the press in New York City. It is about saving the open society itself. It is a battle we cannot afford to lose." –Quote by Chris Hedges, Pulitzer-prize winning former foreign correspondent for The New York Times, read by Michael Nigro, Multimedia Journalist.
The press conference, held at Foley Square, is a lead-up to the public hearing on the NYPD's proposed amendments the following day, Tuesday, August 18, 2020 and presented three interconnected issues and action items designed to create a transparent and functional democratic system and ultimately to transform the relationship between the NYPD and the press.
A clarification of the proposed amendments. While it is true that some of these new rules have the potential to function as a check on the NYPD's power to censure journalists, we argue that many of these rules are overly broad, open for interpretation, and grants greater latitude for the police to narrow or dismiss press freedom.
We will announce the launch of an exploratory committee whose sole purpose will be to transfer the issuing of press credentials from the NYPD to another entity. The long-standing concern that the NYPD has charge of issuing press credentials is not merely a blatant conflict of interest, but it also amounts to having the NYPD licensing the right to practice journalism, which amounts to a license to exercise first amendment rights.

We ask Mayor Bill de Blasio and/or the City Council to pass a Binding Resolution on the NYPD to protect all members of the press and current press cardholders, This includes but is not limited to:
a) Using physical force against a journalist, including without limitation tear gas, pepper spray, chemical irritants, flash-bang devices, rubber ball blast devices, batons, rubber bullets and other impact munitions, and any other means.
b) Threatening journalists with arrest or detention, or taking any journalist into custody, or seizing their equipment.
c) Threatening, harassing, or intimidating a journalist.
d) Deploying indiscriminate munitions
e) Kettling or killboxing crowds that are likely to include journalists
f) Ordering or forcing journalists to disperse, or to stop recording or observing a protest.
© Erik McGregor – erikrivas@hotmail.com – 917-225-8963
PLEASE CONSIDER SUPPORTING MY WORK