New York, NY – Scores of everyday New Yorkers rallied in front of the New York Stock Exchange on November 14, 2019 to commemorate World Diabetes Day 2019, calling attention to the growing crisis of "insulin rationing" being caused by large price increases by insulin makers in recent years.
Participants included people living with diabetes and their health care providers, health care advocates and activists, faith leaders, and public officials.
The rally was the New York City component of a National Day of Action called by the new Lower Drug Prices Now campaign and was titled "End Big Pharma Price-Gouging!"
"We are all getting ripped off by Big Pharma's sky-high prices for medicine, or going without the drugs we need. This is especially true for 30 million people in the U.S. who live with diabetes, including over 2 million in New York State," said Mark Hannay, Director of Metro New York Health Care for All. "Many of them cannot afford their daily insulin to stay alive because drug companies have jacked up the price to around $300 for a small vial. These people are now rationing or going without it. We need Congress to take on the drug industry to stop this crisis now by moving forward with the Lower Drug Costs Now Act." [HR 3]
"In the healing stories of the Christian gospels, Jesus shows us by word and deed that he saw every person as a beloved child of God, and he asked us to do whatever we can to ensure that all people may thrive," said Rev. Posey Krakowski of the Church of the Ascension in the City of New York. "Forcing people to ration insulin prioritizes profits over people. We people of faith call on Congress and New York State legislators to pass laws that protect access to life-saving medications."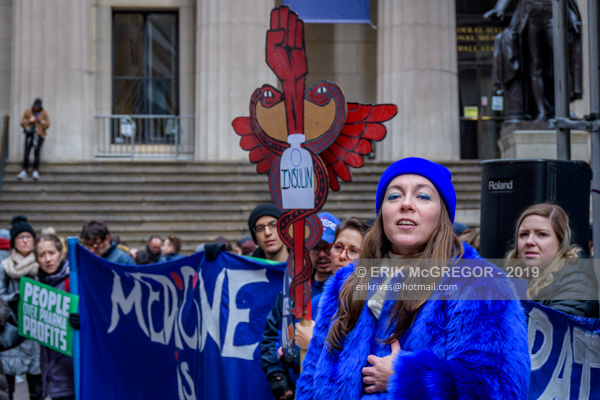 "I was diagnosed with Type 1 diabetes in 1996 when I was twelve years old, and spent nearly a week in the hospital recovering from diabetic ketoacidosis, said Karlynn Holland, a leader in New York City of New York #insulin4all. "That year, Humalog, an analog insulin, hit the market. It cost $21 per vial. The same exact insulin was $320 per vial the last time I refilled my prescription. I am now 35 years old and I just completed premedical studies at Columbia University, and am applying to medical school. I can't be a doctor if I can't afford the insulin I need every day to stay alive. As a future doctor, I can't help other people if they can't afford the lifesaving medications I prescribe to them. Insulin must be affordable to all who need it. Access to insulin is a human right."
"I support Insulin4All in honor of my great uncle Al Danowitz who was in the first generation of persons with type 1 diabetics to live a long life due to Banting, Best & Macleod's discovery of insulin which they refused to profit from. From my great uncle's teens in the 1930s until he died in the 1980s, he could afford his insulin without worry, in part because the American government held manufacturers in violation of anti-trust when tried to fix the prices in 1941," said Dr. Steve Auerbach, a pediatrician and public health professional in New York City. "However, in recent decades, Congress has protected profiteering drug companies with the Institutional Patent Agreement and the Bayh-Dole Act. With monopoly power, bogus evergreening patents, and outright collusion, drug makers are jacking up prices to feed quarter-on-quarter Wall Street greed instead of patient need."
"The theme for World Diabetes Day 2019 is 'Family and Diabetes'," said Elizabeth Snouffer, Editor of DiabetesVoice.org published by The International Diabetes Federation, and a person living with diabetes for 44 years. "The Federation stands in solidarity with the fight for affordable insulin and care. We must protect our families."
The event centered on price-gouging by the major insulin providers –Eli Lilly, Sanofi, and Novo Nordisk— which has forced many New Yorkers living with diabetes to ration their use of insulin, causing them to become very sick, needing hospitalization, and some have even died.
The names of those who have passed away because of this situation were read aloud, followed by a moment of silence held in their memory.
© Erik McGregor – erikrivas@hotmail.com – 917-225-8963
PLEASE CONSIDER SUPPORTING MY WORK