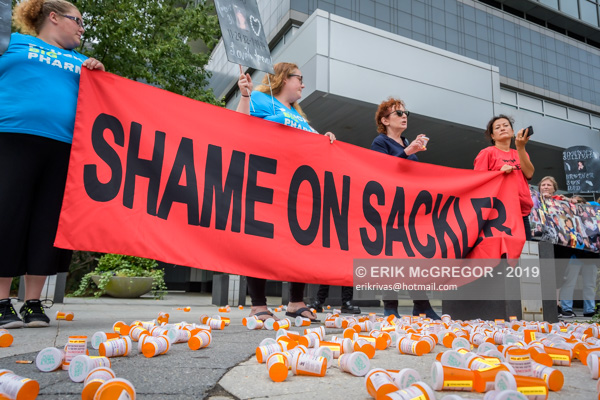 Stamford, CT – Members of P.A.I.N. (Prescription Addiction Intervention Now) and Truth Pharm staged a protest on September 12, 2019 outside Purdue Pharma headquarters in Stamford, over their recent controversial opioid settlement. Participants dropped hundreds prescription bottles of OxyContin while holding tombstones with the names of opioids casualties and banners reading "Shame on Sackler" and "200 Dead Each Day".
Purdue Pharma L.P. is a privately held pharmaceutical company owned principally by descendants of Mortimer and Raymond Sackler. In 2007 it paid out one of the largest fines ever levied against a pharmaceutical firm for mislabeling its product OxyContin, and three executives were found guilty of criminal charges.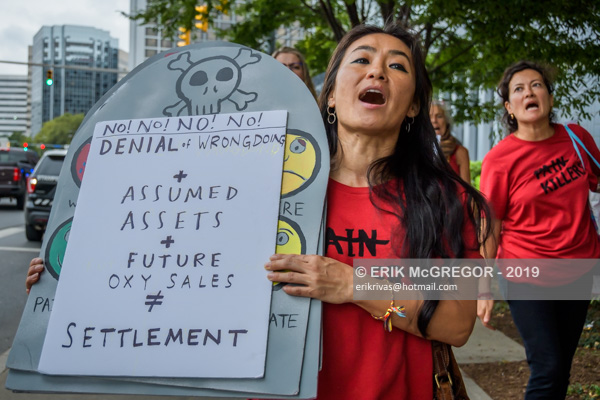 P.A.I.N. Statement of Opioid Settlement: This settlement is a hoax. The Sacklers have fraudulently transferred 4 billion from their company Purdue Pharma since 2007 and funnelled these funds into offshore accounts to protect it from the litigation they knew was coming. In its stead, they shamelessly offer billions in Oxycontin, their drug that ignited this crisis, to pay off their debt.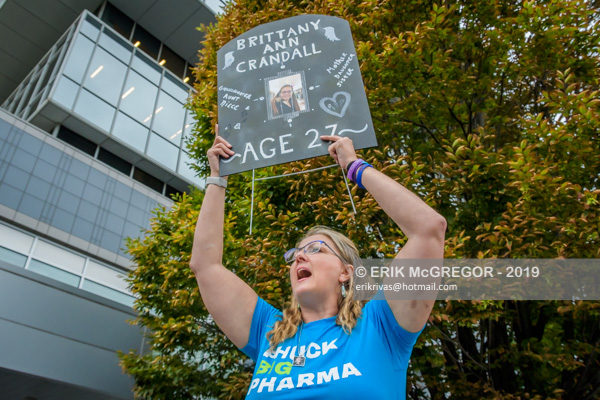 We stand by the Attorney Generals who are continuing to fight to claw back the personal wealth of this family. One family has profited off the bodies of 400,000 Americans and destroyed families and communities across the country––they deserve justice. This settlement doesn't demand that they admit culpability and we will not settle until the Sacklers are held accountable.
We call on the American public to contact their Attorneys General and demand they stand with William Tong, Maura Healey, and Letitia James by clawing back the Sackler's personal wealth.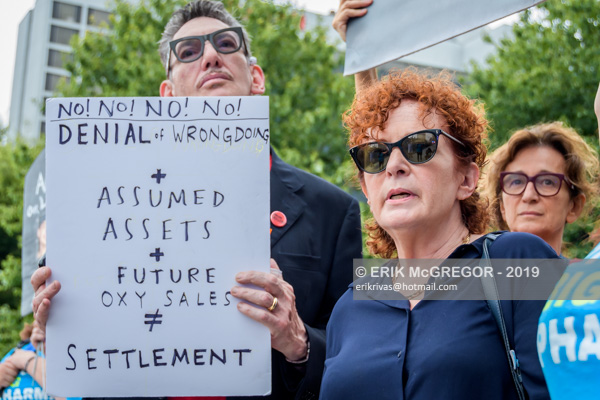 P.A.I.N. (Prescription Addiction Intervention Now) is a group founded by Nan Goldin and her colleagues in response to the opioid crisis. We are committed to making the Sacklers and Purdue Pharma responsible for helping to find the solution to ending America's opioid epidemic.
Truth Pharm, Inc. is a national advocacy organization working to raise awareness and reduce the stigma associated with substance use disorders, and advocating for policy change to improve treatment options.
© Erik McGregor – erikrivas@hotmail.com – 917-225-8963
PLEASE CONSIDER SUPPORTING MY WORK