New York, NY – A multitude of New Yorkers wearing orange joined Moms Demand Action and other gun violence prevention organizations on June 8, 2019 for the Solidarity Walk With Gun Violence Survivors across the Brooklyn Bridge as part of the National Gun Violence Awareness weekend.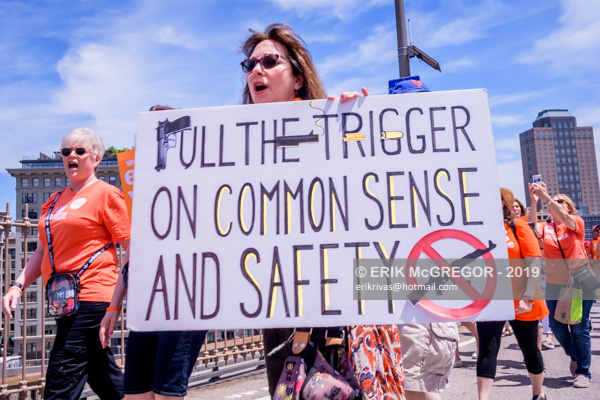 Formerly known as the Brooklyn Bridge March, this was the 7th walk across the Brooklyn Bridge in solidarity with the Survivor Community. National Gun Violence Awareness Day is the first Friday in June, which will be June 7 in 2019.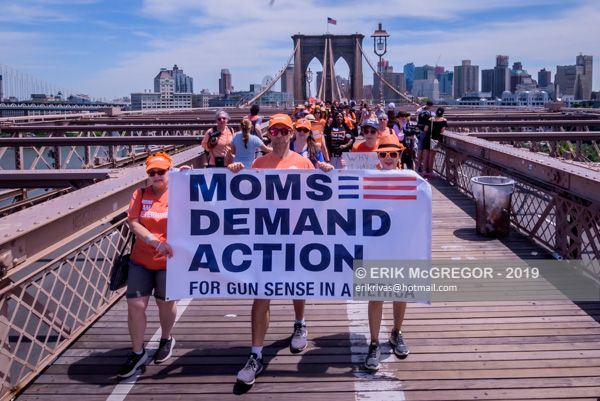 Orange is the color that Hadiya Pendleton's friends wore in her honor when she was shot and killed in Chicago at the age of 15 — just one week after performing at President Obama's 2nd inaugural parade in 2013. After her death, they asked us to stand up, speak out, and Wear Orange to raise awareness about gun violence.
Since then orange has been the defining color of the gun violence prevention movement. New York gun violence prevention advocate Erica Ford spearheaded orange as the color of peace through her work with her organization, Life Camp, Inc.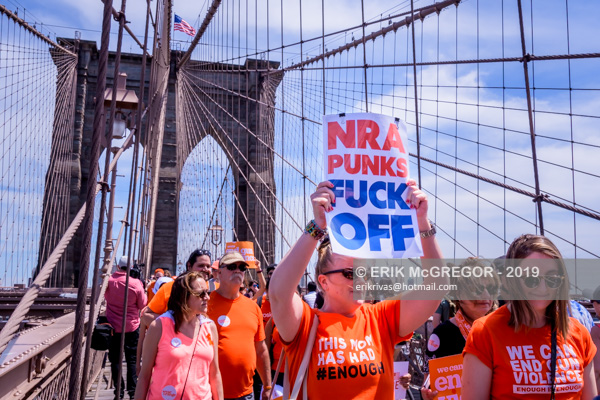 Whether it's worn by students in Montana, activists in New York, or Hadiya's loved ones in Chicago, the color orange honors the more than 100 lives cut short and the hundreds more wounded by gun violence everyday.
The effect of gun violence on our communities is pervasive, long lasting, and impacts everyone uniquely. Wear Orange is an opportunity to demonstrate our collective power as members of the gun violence prevention movement, bringing together a broad spectrum of organizations, brands, and influencers working in different ways to curb gun violence.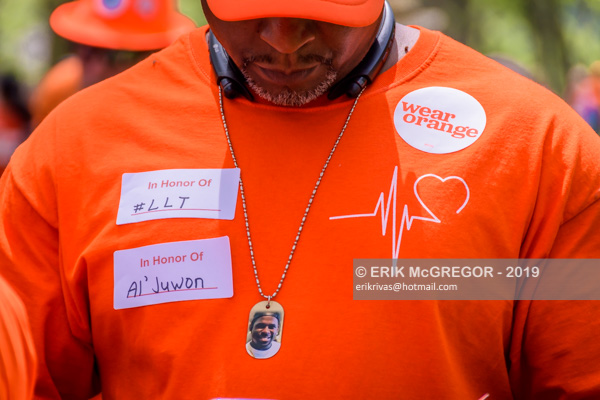 Solidarity Walk with Survivors is organized in partnership with the following gun violence prevention partners: Everytown, Doctors for America, G.M.A.C.C., Guns Down Life Up, Harlem Mothers S.A.V.E., Moms Demand Action for Gun Sense in America, Neighbors in Action, New Yorkers Against Gun Violence and Youth Over Guns.
© Erik McGregor – erikrivas@hotmail.com – 917-225-8963
PLEASE CONSIDER SUPPORTING MY WORK