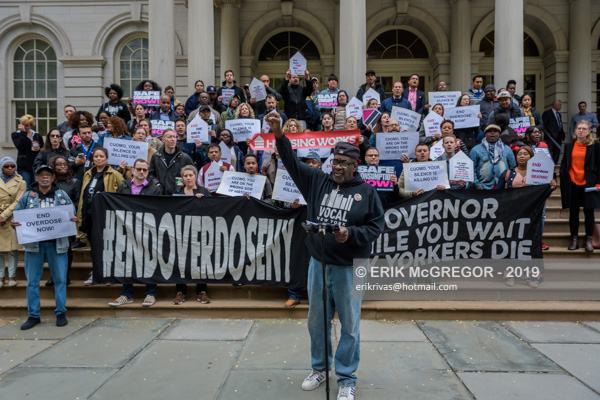 NEW YORK, NY – Community leaders, people who have been directly impacted by drug use or overdose, and drug policy activists returned to the steps of City Hall on May 3, 2019 united in anger as Governor Cuomo has refused to move forward with Overdose Prevention Centers.
One year ago, Mayor de Blasio came out in support of Overdose Prevention Centers (OPCs), exactly a day after activists shut down Broadway in front of City Hall, resulting in 11 arrests.
Governor Cuomo signaled that he would support the pilots over a year ago, and has since grown silent in the midst of record-high overdose deaths under his administration.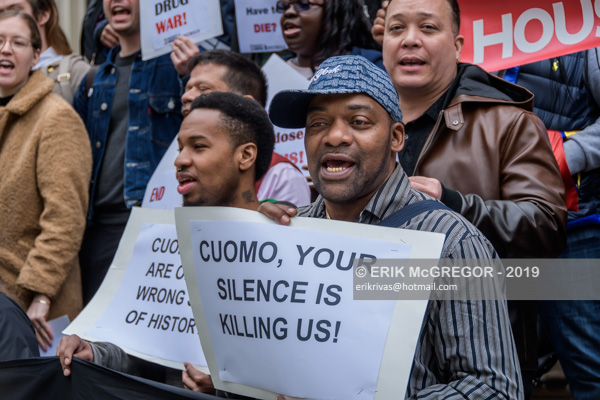 Over 1,000 New Yorkers have died of an overdose in the year that has passed since. Additional thousands of people who are vulnerable to an overdose–and the friends and family members who love them–have been waiting on action from the Cuomo administration to greenlight OPCs, to no avail.
"New Yorkers deserve leaders who will take on the overdose crisis with the sense of urgency — leaders who have the courage to implement innovative, evidence-based interventions, said Kassandra Frederique, New York State Director at Drug Policy Alliance. "One year ago, NYC Mayor de Blasio endorsed Safe Consumption Spaces and put the ball in Governor Cuomo's court. Despite Governor Cuomo's campaign promises, he has stopped any movement to allow the conversation to move forward to pilot overdose prevention sites. Ithaca and New York City are both ready to lead and Governor Cuomo should approve the pilot without delay"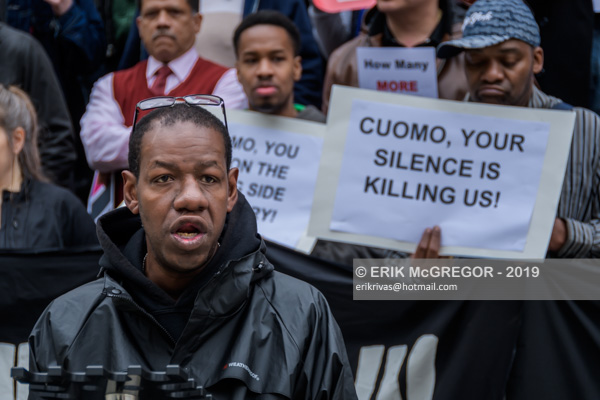 "This time last year, I stood here with my community demanding that the Mayor support Overdose Prevention Centers," said Shantay Owens, Leader at VOCAL-NY. "Today I am standing here again–and the only thing that has changed is the Mayor now stands with us and the Governor continues to sit by as New Yorkers are dying. What hasn't changed is that we are still losing thousands of New Yorkers every year to preventable overdose. This could all stop tomorrow with one word from Governor Cuomo. I am tired of losing my friends and family. In this shameful era of mass deaths, it is clear that Governor Cuomo will be remembered as a leader who allowed people to die on his watch."
"A year ago we stood together to applaud the city's commitment to piloting Overdose prevention centers (OPCs) — a direct result of the power and advocacy of communities. Yet a year later the Governor is silent and New York is stalled on moving this forward, while we continue to lose our loved ones and family members to this crisis," said Council Member Stephen Levin. "OPCs save lives. It's time we stop criminalizing drug users and start implementing solutions that work. Thank you to the advocates for leading this work, it's time that our government follow."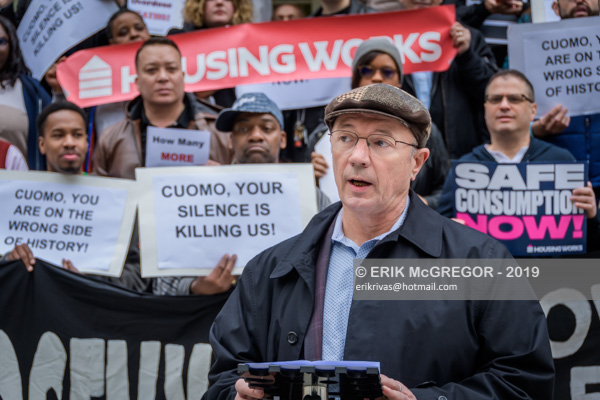 "Last year, Governor Andrew Cuomo was all-in with this support for authorizing Overdose Prevention Centers in New York State. But he turned his back on us and has gone silent," said Ken Robinson, Executive Director of Research for Safer New York, Inc.. "If he had kept his word, we could have possibly opened OPCs by the end of 2018. Research indicates that approximately 430 New Yorkers have died of opioid overdoses since January 1st. If Governor Cuomo had not lied, many of those lives could have been saved."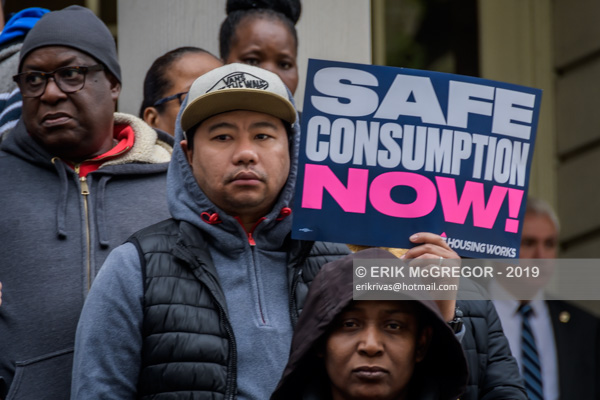 Activists and leaders on the issue reminded Governor Cuomo that withholding a well-respected public tool while the country and state are dealing with mass deaths is unethical and unacceptable.
© Erik McGregor – erikrivas@hotmail.com – 917-225-8963
PLEASE CONSIDER SUPPORTING MY WORK