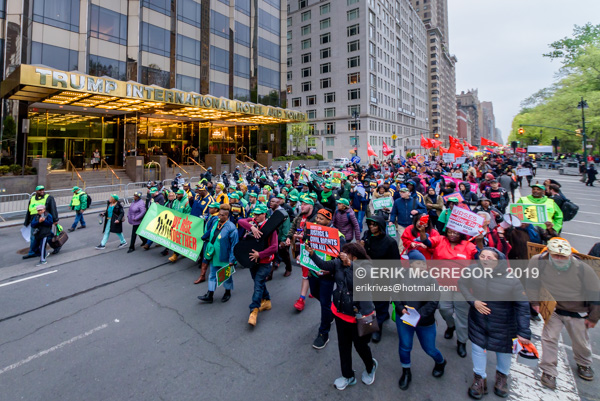 New York, NY – Hundreds of New Yorkers gathered in front of the Trump International Hotel and Tower at Columbus Circle on May 1, 2019 in celebration of May Day — an occasion often synonymous with fighting for workers' rights — in support of issues ranging from fair wages for restaurant workers, to lower tuition costs, to fighting against Trump's proposed border wall.
And while the focus of the demonstrations differed, many used May 1 as a way to come together under a collective voice.
Participants were holding signs that argued against "capitalist exploitation of immigrant workers" and said there should be "no walls in the workers struggle" — a play on Trump's proposed border wall.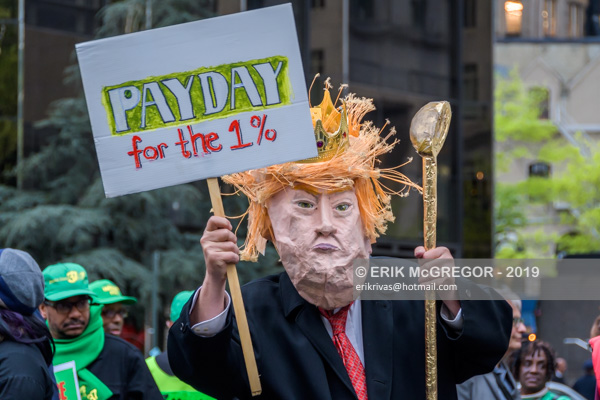 May Day has been synonymous with International Workers' Day for decades but in recent years the holiday also has been used as a soap box for overlapping issues covering a range of issues from income inequality to environmental protections and racism.
May Day dates back to 1886 when about 300,000 workers across the country walked out of their jobs, using the demonstration to demand better conditions, such as an eight-hour workday, according to the Industrial Workers of the World union.
© Erik McGregor – erikrivas@hotmail.com – 917-225-8963
PLEASE CONSIDER SUPPORTING MY WORK