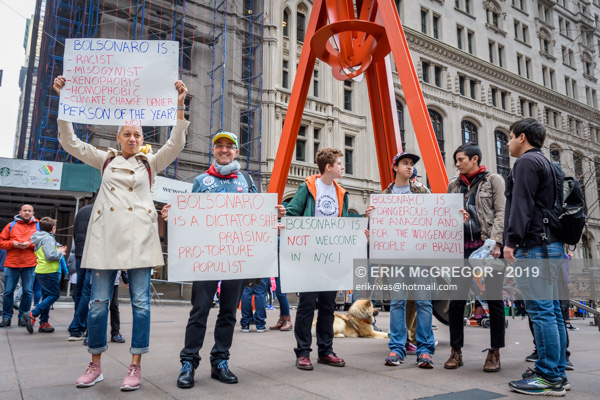 New York, NY – A crowd of Brazilian nationals and their allies gathered at Zucotti Park on April 20, 2019 for a rally and march to Wall Street protesting the gala to award Jair Bolsonaro, "Man of the Year", by the Brazilian-American Chamber of Commerce. The event is nothing short of an outrage to Brazil, to any institution in the City of New York, to the country, to the world.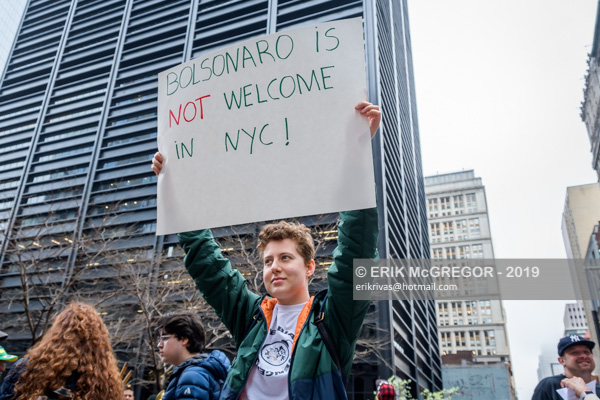 The Brazilian-American Chamber of Commerce must be shamed for this award. Jair Bolsonaro and his government are enacting a strong anti-scientific agenda in Brazil, curtailing research funding, threatening public education, and reducing environmental regulations to an unprecedented level in Brazilian history.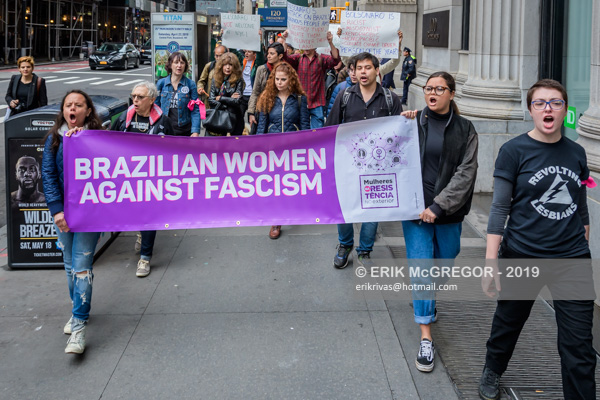 By accepting to host the event, AMNH was contradicting its principles and its role as one of the world's leading scientific institutions. Despite demands from over 400 scientists, AMNH curators and staff, activists, and politicians the museum still refuse to remove climate science denier and mega donor, Rebekah Mercer, from its board of trustees – Bolsonaro was not elected by accident. Thank you to Scientists, employees of the AMNH, and over 20 thousand people who signed the letters and petitions, and to a dozen of organizations who banded together.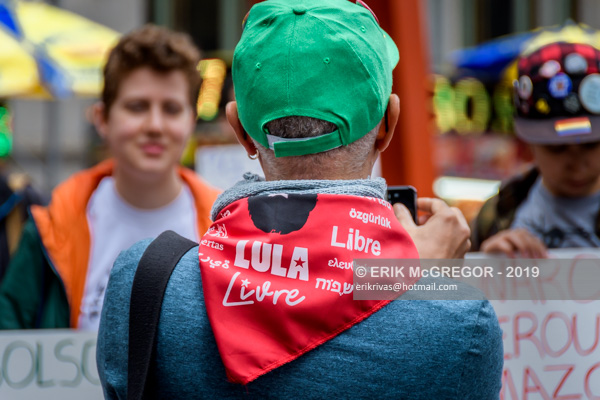 Jair Bolsonaro's political campaign has been fueled, among other issues, by a overt anti-scientific discourse. During the political campaign of 2018 and the first hundred days of his government, professors, universities, and research institutions have been systematically threatened and harassed by the president and his allies.
The Bolsonaro government has reduced the federal budget for Science and Technology by 42.27%. His government has also publicly praised fascism and expressed nostalgia for the former Military Regime in Brazil: a troubling trend that represents a great danger to freedom of expression, a cornerstone of society's scientific development. The anti-scientific nature of Bolsonaro's government is well represented in the views of his Minister of Foreign Affairs, Ernesto Araújo, who claims that climate change is an invention grounded in "Marxist" and "Globalist" ideas, and threatens to abandon the Paris Agreement.
Furthermore, Bolsonaro's Ministry of Agriculture has authorized the use of 152 new pesticides, many of which are forbidden in other parts of the world, deemed to be related to cancer. The administration has also transferred the responsibility of regulating indigenous reservation demarcations, environmental and climate policy, ecological education, and water resource management to the Ministry of Agriculture, which works for the interests of agribusiness. This change represents a threat to the protection of the already endangered environment, human rights, and biodiversity of Brazil, including the Amazon Forest.
© Erik McGregor – erikrivas@hotmail.com – 917-225-8963
PLEASE CONSIDER SUPPORTING MY WORK