New York, NY – The ten brave climate activists blockading the NYC street leading to Governor Cuomo's office on September 7, 2018, to address climate inaction on fossil fuels infrastructure build out, slow move to renewables and lack of aggressive climate legislation faced the judge in NYC court on November 27, 2018. Prior to court, they held a Climate Press Conference to address the media about why they took action and where we need to go.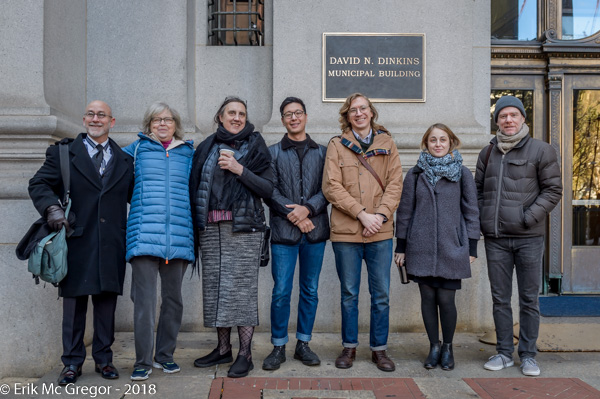 The ten New Yorkers were arrested in September's Rise for Climate, Jobs and Justice action targeting Governor Cuomo and other elected officials to demand:
(1) a just transition to 100% renewable energy now;
(2) stopping all fossil fuel infrastructure, including fracked gas pipelines and power plant projects; and
(3) making corporate polluters pay.
The group vows to continue action until all of their demands are met in lieu of the recent IPCC report issued from 133 Contributing authors, over 6,000 cited references, a total of 42,001 expert and government review comments that we have just 12 years to address climate before global climate catastrophe is a certainty. Their charges were adjourned in the contemplation of dismissal in six months, and were represented by attorney Ron Kuby.
Thomas N, Climate Justice Working Group, NYC-DSA: "New York is supposed to be our nation's guiding light for progressive values. So then why has Governor Cuomo done so little to address climate change? Where is the leadership? Hurricane Sandy happened while he was Governor, he has seen firsthand the effects, yet still nothing. Within the last year it has gotten even worse. We have seen the devastation of climate change with Hurricane Maria in Puerto Rico, forest fires emblazing California, unprecedented floods across South Asia, and a climate migrant crisis in Europe. Why is Governor Cuomo not treating this crisis with the urgency it now requires? There are a number of bills that offer solutions to the crisis, but Governor Cuomo lets them whither away in the State Senate year after year, why? Maybe the answer lies somewhere in the more than $100,000 in donations he's gotten from the fossil fuel industry… I got arrested today to do something Governor Cuomo will not, to highlight the urgency of our current climate crisis."
Robert Wood: "I'm risking arrest because we have a climate emergency that only the boldest actions are going to fix. We are out of time for middling solutions and meek politicians. We are done asking nicely. We demand that Governor Cuomo and others stop allowing corporations to use our atmosphere as a dumping ground, and we demand that they do this now."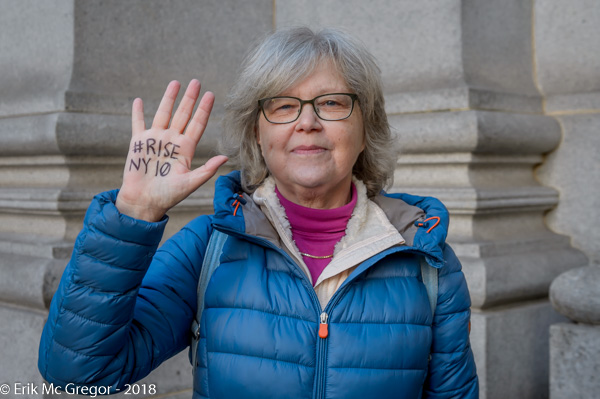 Sara Gronim, volunteer with 350Brooklyn, which is part of a coalition of grass-roots groups fighting to stop the Williams pipeline, a fracked-gas pipeline proposed for the waters off Staten Island, Brooklyn, and the Rockaways: "Governor Cuomo has the power to deny a key permit that would stop this project. But he does not yet seem to realize the urgency of the climate crisis. We don't have time to put off transforming our energy systems. We need to move fully to renewable, sustainable, affordable energy sources now."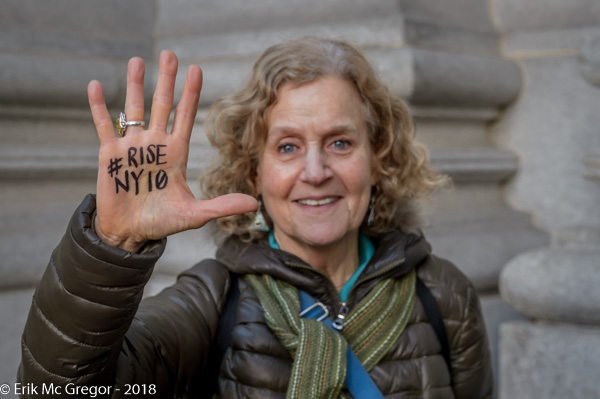 Nancy Romer, Professor Emerita, Brooklyn College member of the Coordinating Committee of Peoples Climate Movement-NY: "New Yorkers need to step up our activism and pressure to protect the city, state and planet we call home. Gov. Cuomo needs to act boldly to get to 100% renewable energy–right now the state gets only 4% of its electricity from renewables. That must change immediately. No more talking about being progressive, lets see some real policy change and implementation now."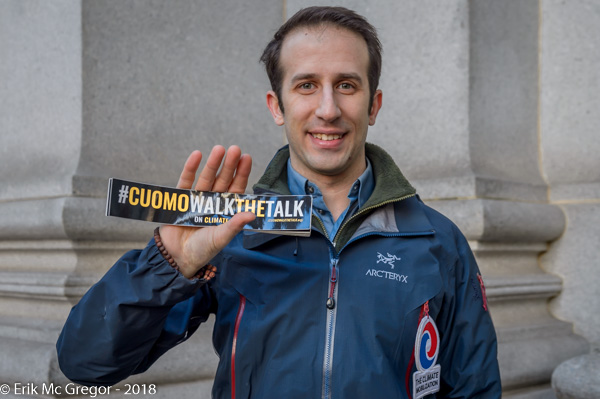 Greg Schwedock: "I'm risking arrest because I'm fed up. I'm fed up with Cuomo's climate lies that endanger all New Yorkers and rob my generation of a livable planet. I'm fed up that the two term Governor claims fight progressive values, yet has handed power to Republicans through turncloak Democrats of the IDC. I'm fed up with corruption and corporate money running the beautiful state I've called home my whole life. I'm fed up with all hypocrisies you can read at CuomoWalkTheTalk.org and since I have the privilege to take a stand, I am."
Jackson Segars: ""Cuomo has failed to lead time and time again on environmental policy, imperiling the future of all New Yorkers. We need broader, bolder action now before it's too late."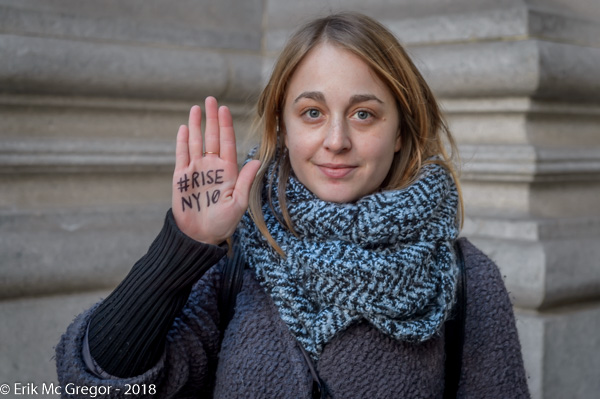 Lindsay Meiman, activist and New Yorker: "New Yorkers deserve a real climate leader who will put our health and safety ahead of corporate cash. Just before Trump's inauguration, I put my body on the line in Albany with fellow young New Yorkers demanding Cuomo #SaveOurFuture and take action at scale with the climate emergency. Instead of listening to his young constituents Governor Cuomo had over 20 of us arrested. Nearly two years later, he has stuck on the dangerous path of incrementalism and business as usual. With the very existence of my home at stake, this type of inaction is deadly. It's time Gov. Cuomo rise to the climate crisis."
© Erik McGregor – erikrivas@hotmail.com – 917-225-8963
PLEASE CONSIDER SUPPORTING MY WORK