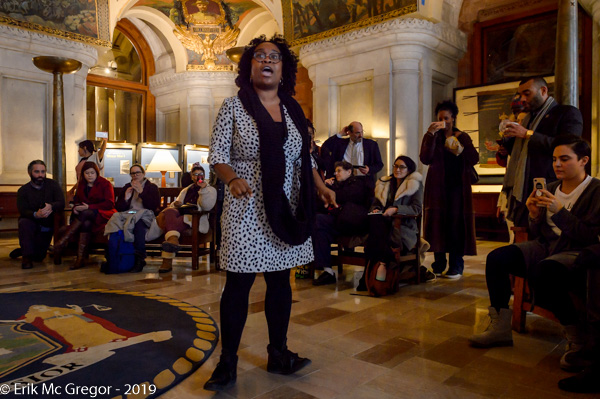 ALBANY, NY – Members of the Start SMART NY coalition (Sensible Marijuana Access through Regulated Trade) gatherede at the War Room in the Capital building on February 12, 2019 to lay out their vision for a just marijuana industry and demand that Governor Cuomo incorporate the Marijuana Regulation and Taxation Act into his proposed recreational marijuana legalization plan.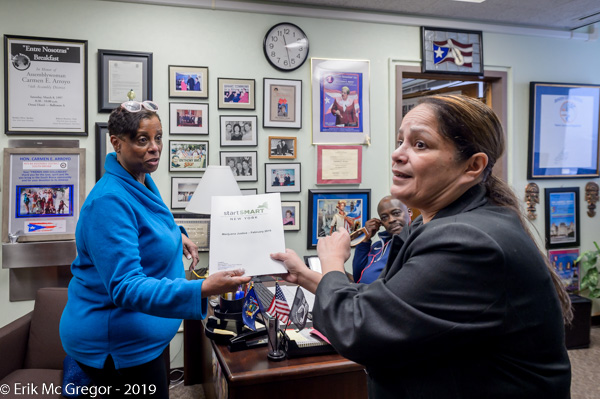 The Marijuana Regulation and Taxation Act (MRTA, S.1527/A.1617) introduced by Majority Leader Crystal People-Stokes and Senator Liz Krueger, is model legislation to create a taxed and regulated adult-use marijuana market that not only creates economic opportunities for all New Yorkers but also addresses the harms of decades of prohibition.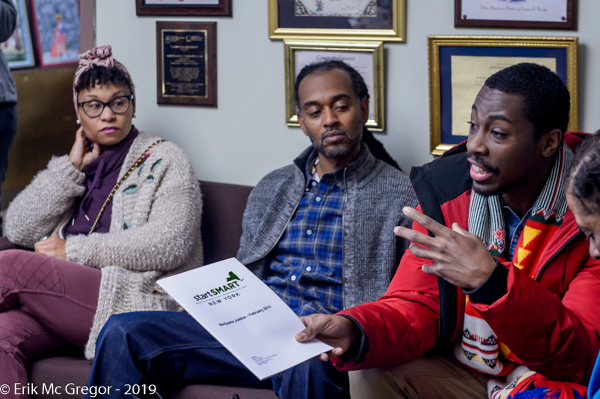 The Start SMART NY coalition (Sensible Marijuana Access through Regulated Trade) – is comprised of organizations, advocates, and community members dedicated to criminal justice reform, civil rights, public health, and community members and community-based organizations who support legalization
The Start SMART NY coalition calls on Governor Cuomo to make amendments to his proposed Cannabis Regulation and Taxation Act (CRTA), which was included in the State Budget legislation, in order to include critical racial and economic justice provisions − communities can't wait any longer for marijuana justice.
Governor Cuomo's plan to legalize adult-use marijuana in New York must draw from the MRTA as it incorporates lessons learned from states currently operating adult-use marijuana markets and the expertise of stakeholders working across systems to reduce the harms of criminalization. The MRTA is the "gold standard" for comprehensive marijuana reform and it should not be discarded to serve the business interests of the burgeoning marijuana industry.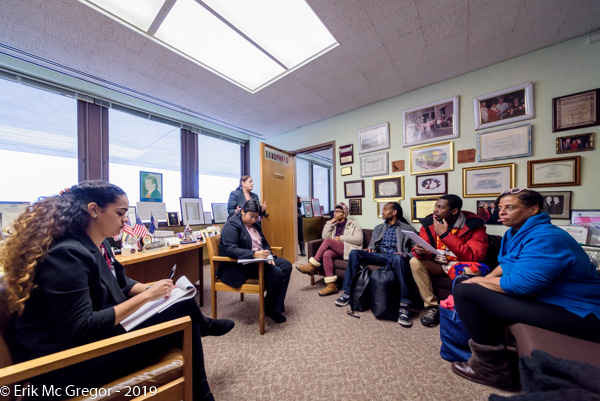 While the CRTA includes some promising provisions, it does not reinvest in impacted communities or center equity in the way that New Yorkers demand.
The coalition demands that any adult-use cannabis legalization bill MUST:
• Clear criminal records (either through sealing and vacatur or expungement) and address devastating impacts of prohibition in immigration and family law, and protect against discrimination in housing and employment based on prior marijuana arrest or off-the-clock marijuana use.
• Ensure an equitable and diverse industry, including having an equity program on day one, supporting small businesses and farmers over large corporations, and providing real banking and capital solutions.
• Use revenue from marijuana legalization for restitution to communities that have been most impacted by criminalization.
Start SMART NY is a campaign to end marijuana prohibition and repair the harms to communities convened by the Drug Policy Alliance in partnership with groups dedicated to ending marijuana prohibition.
© Erik McGregor – erikrivas@hotmail.com – 917-225-8963
PLEASE CONSIDER SUPPORTING MY WORK