New York, NY — On February 24, 2021 a delegation of New Yorkers who are formerly incarcerated, public health professionals, members of the COVID-19 New York Working Group, community advocates and concerned New Yorkers organized a rally in front of Governor Cuomo's office in Manhattan to deliver a letter demanding that Cuomo expand access to COVID-19 vaccines to all people who are incarcerated in New York State, not just those over the age of 65.
Citing the lack of ability to physically distance, lack of PPE, substandard medical care, and the prevalence of comorbidities, activists are deeply alarmed at the public health implications of the State's inaction in this area.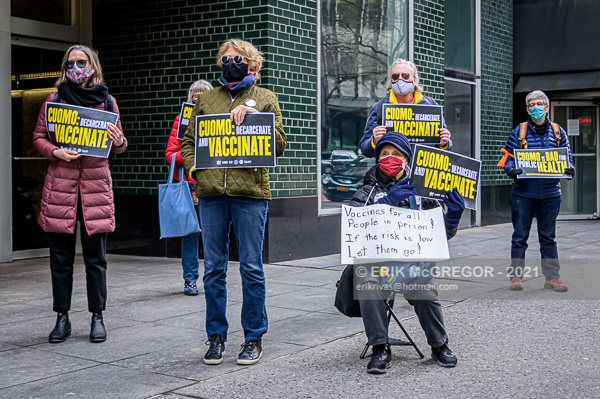 Along with access, the group is asking that the plan include meaningful education and informed consent about the vaccine.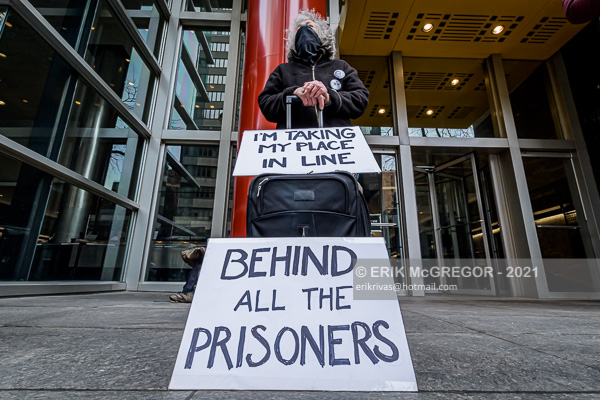 Additionally, as decarceration is the most effective and just solution to protecting people in prisons and jails from COVID-19, the NYS legislature needs to move forward on the HALT Solitary Confinement Act, Elder Parole bill, Fair and Timely Parole bill, and Less is More NY; and Governor Cuomo needs to approve the vast number of clemency requests that have languished on his desk during this pandemic.
Speakers included people who have been incarcerated, family members of people currently detained in New York State, public health experts and New York State legislators.
Background:
After months of advocacy – and a lawsuit – Governor Cuomo announced that the state will begin offering vaccines to incarcerated people over the age of 65 and who are medically frail.
However, the Governor's own vaccine distribution plan indicates that the state should be offering vaccines to all people in congregate settings as part of phase 1b.
Advocates slammed the Governor for claiming not to know "the specific definition of 'congregate'" at his press briefing.
For months, advocates have called on the Governor to ensure that all vulnerable New Yorkers, including incarcerated people, have early access to COVID-19 vaccines.
Advocates state that time is of the essence in addressing the public health emergency that exists in jails and prisons and that Governor Cuomo and the state legislature have been far too slow to act.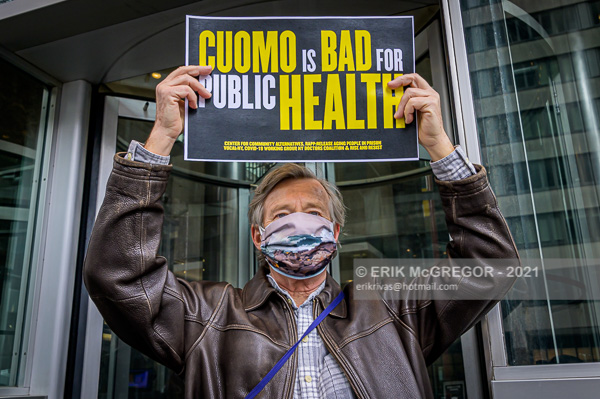 The rally was organized by the COVID-19 Working Group — New York, New York Doctors Coalition, Center for Community Alternatives, Release Aging People in Prison, Rise and Resist, and VOCAL-NY.
© Erik McGregor – erikrivas@hotmail.com – 917-225-8963
PLEASE CONSIDER SUPPORTING MY WORK