CAFÉ REZONE LAUNCHES NEW GOWANUS MENU: COME SEE WHAT CHEF De BLAZ IS COOKING UP!
Waves of displacement and pandemic got you down? The smell of toxic waste making you blue? Join us on February 21, 2021 at the Café Rezone, a special Gowanus outdoor dining pop-up highlighting the Gowanus rezoning.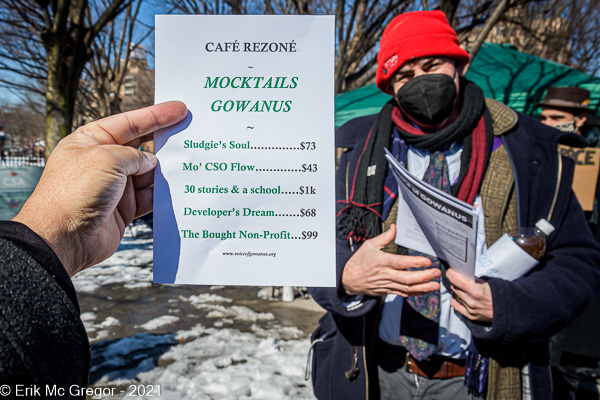 You'll find exclusive, upper echelon diners sitting at table, red-checked tablecloths, candles. Come taste something foully enchanting.
Stop by to pick up the full menu and see what's being served up in the rezone by Chef De Blasio and Sous Chefs Lander and Levin!
Details for February 21, 2021:
Start: First 1 PM performance in the park surrounding the Old Stone House, then heading toward Union Street Bridge via the Third Street Bridge distributing menus and flyers along the way.
Conclusion: Second 2pm performance, Gowanus Canal at the Union Street Bridge.
Limited Menu Sneak Preview:
Pan-seared Public Place Toxins
Fricassee of Luxury Unit drizzled with CSO sauce
Displacement a la Gowanus
Char-grilled lobbying dollars with a manufacturing reduction
Free range Flood Risk du jour
Café con toxic sludge
Raw sewage salad, with black mayonnaise
Baked ULURP Scramble (deconstructed) for dessert
© Erik McGregor – erikrivas@hotmail.com – 917-225-8963
PLEASE CONSIDER SUPPORTING MY WORK