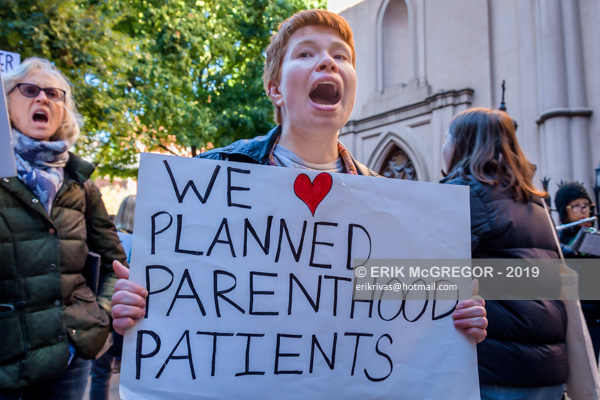 New York, NY – Abortion Rights activists from a number of organizations held a demonstration outside of the Basilica of St. Patrick's Old Cathedral in SoHo on October 5, 2019 where congregants meet on the first Saturday of every month before marching to the Planned Parenthood clinic on Bleecker Street to pray, and to allegedly harass and intimidate patients as they enter the clinic.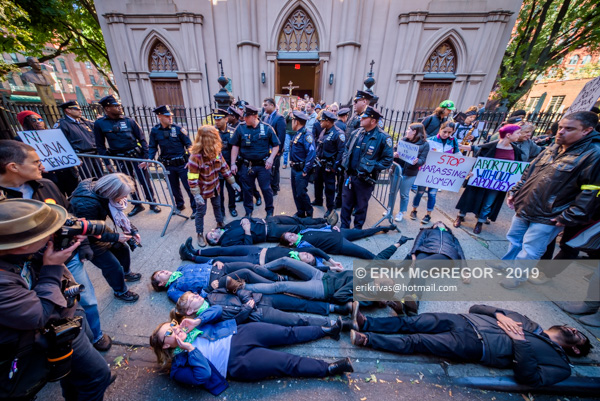 The church is affiliated with other anti-choice groups including Bikers for Life and "fake sidewalk counselors" who attempt to intercept patients and convince them not to enter the clinic.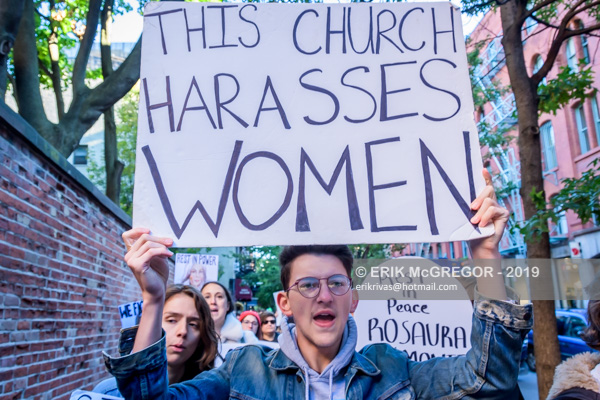 During 40 Days for Life, a biannual religious anti-abortion campaign that runs this fall from September 25 to November 3, crowds of abortion opponents gather outside of clinics around the world to "pray to end abortion" and attempt to prevent patients from accessing reproductive healthcare.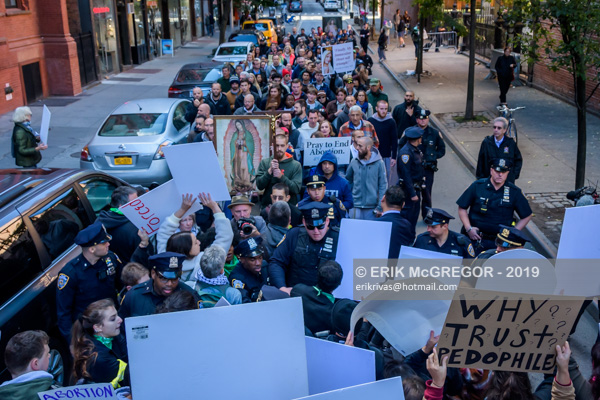 New York City for Abortion Rights, a grassroots organization dedicated to direct action to defend access to abortion, was joined by activists with National Women's Liberation, Democratic Socialists of America (DSA), Abortion Access Front, Rise and Resist, and Reclaim Pride to demonstrate in front of the church and delay the abortion opponents in their march to Planned Parenthood.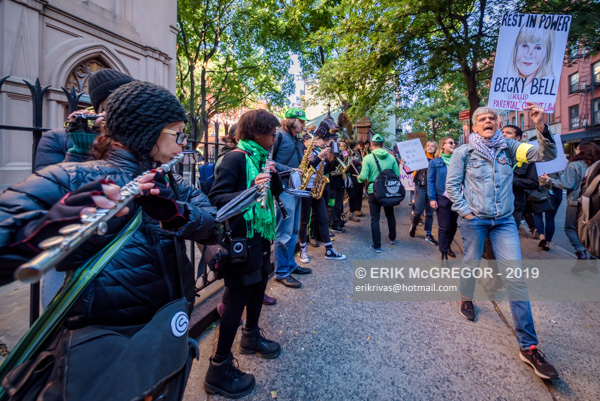 Abortion rights activists honored the memory of the many women who have lost their lives or been incarcerated because of laws regulating women's bodily autonomy. Each year between 4.7% and 13.2% of maternal deaths worldwide can be attributed to unsafe abortion.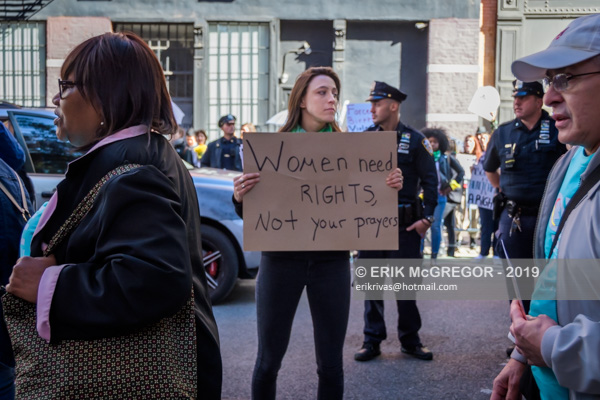 Here are just a few of the women who lost their lives or faced legal consequences as a result of anti-abortion laws or "pro-life" zealots in state legislature.
Rosie Jimenez died at age 27 in 1977 from an illegal abortion in McAllen, Texas and is the first woman known to have died in the United States due to an illegal abortion after the Hyde Amendment was passed.
Ingriane Barbosa Carvalho, a 31-year-old mother of three, died on May 16, 2018 in Brazil from an infection caused by an underground abortion procedure. Each year, more than 250,000 women are hospitalized as a result of complications from abortions in Brazil, which forbids terminating pregnancies with few exceptions; in 2016 at least 203 women died as a result of complications from illegal abortions.
Savita Halappanavar died in Ireland in 2012 after being denied an abortion following an incomplete miscarriage on the grounds that granting her request would be illegal under Irish law. Her death led to the passing of the Protection of Life During Pregnancy Act 2013 and helped unite activists around the ultimately successful fight to repeal the Eighth Amendment in May 2018.
Marshae Jones, a 27-year-old woman from Birmingham, was taken into police custody in June 2019 after being indicted in Alabama on a manslaughter charge after being shot in the stomach and having a miscarriage. Alabama is one of the 38 states with a fetal homicide law that recognizes a fetus as a potential victim of a crime against a pregnant woman. *Purvi Patel, the first US woman to be sent to prison for inducing her own abortion, was arrested in Indiana in July 2013 on two felony counts of child neglect and feticide and originally sentenced to 20 years in prison.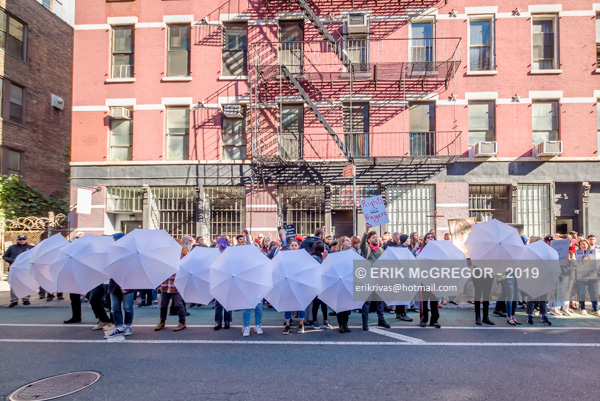 Reproductive justice activists will fight for bodily autonomy for all people and for equal access to reproductive healthcare. We will stand up to anti-abortion extremists wherever they appear, especially in this alarming moment when public support for abortion is at the highest level in decades but increasingly conservative state legislators are passing more restrictions on abortion access than at any point since abortion was legalized in 1973.
© Erik McGregor – erikrivas@hotmail.com – 917-225-8963
PLEASE CONSIDER SUPPORTING MY WORK