Brooklyn, NY – Members of the Brooklyn-wide anti-gentrification group Equality for Flatbush organized an emergency rally on August 20, 2019 to stop the demolition of the residence at 227 Duffield Street, the last standing Black History Landmark on Abolitionist Place in downtown Brooklyn.
227 Duffield St, located on Abolitionist Place in downtown Brooklyn, is the last known standing historic site in Brooklyn where well-known abolitionists lived and where Black people found freedom through the Underground Railroad.
Since the City's downtown Brooklyn development plan demolished all other Duffield Street historic residences, 227 Duffield represents the last known standing property to continue the legacy of African American history of resistance in New York City and nationwide and should be preserved as a city landmark.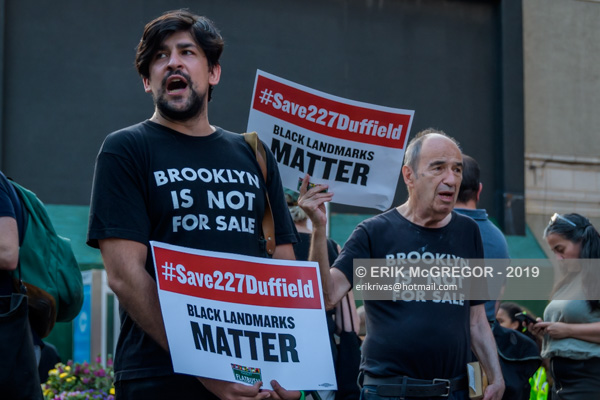 227 Duffield needs to landmarked and turned into a museum to preserve its important historical contribution to the fight against racism in the US.
BEFORE IT'S GONE // TAKE IT BACK: Documenting Brooklyn – Fighting Gentrification (B4G) is the Brooklyn-wide anti-gentrification campaign of Equality for Flatbush
© Erik McGregor – erikrivas@hotmail.com – 917-225-8963
PLEASE CONSIDER SUPPORTING MY WORK