New York, NY – Reverend Billy and the Stop Shopping Choir organized an action at City Hall Park on May 8, 2019 carrying the glyphosate molecule-sculpture around the fountain and placing it before City Hall to demand that New York City Parks Department stop using glyphosates in NYC parks.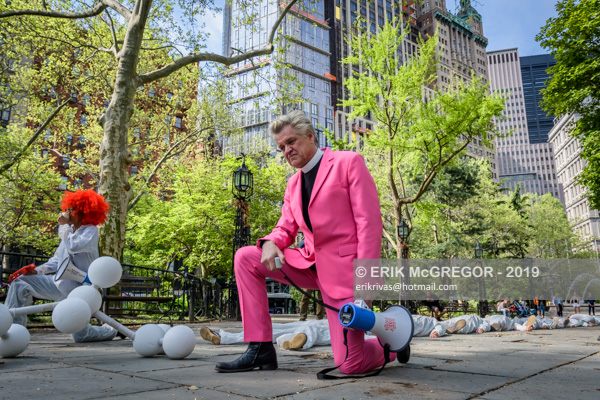 The choir in hazmat suits on in a costumed symmetry that recalls Busby Berkeley. We talk ourselves into getting down to molecule size & back up to tree-size… Transformation must be the new Earth politics.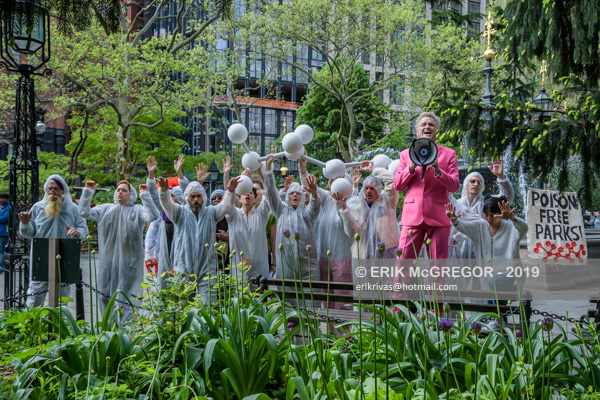 GET DOWN. "We are welcomed down into the soil, under last year's rotting leaves, and we're welcomed to be so "nano" – reducing our size down into the sub molecular darkness, or is there a lot of light down there! Don't we have to re-vision-ualize? Let's go down to one-celled animal size, so when a glyphosate super-molecule comes through the soil world of seeds and bacteria her Monsanto comes like a Patton tank and so now down under the leaves we are the right size to stop that cancerous glyphosate toxin…" The new earth politics is tranformational!
© Erik McGregor – erikrivas@hotmail.com – 917-225-8963
PLEASE CONSIDER SUPPORTING MY WORK