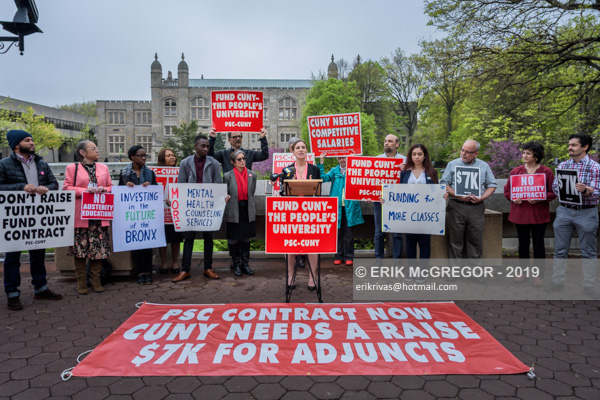 Bronx, NY – NYS Senator Alessandra Biaggi joined faculty, staff and students for a press conference on May 3, 2019 in front of the Music Building at Lehman College, to demand increased funding for CUNY, and a fair contract for CUNY workers.
Two days after CUNY's chancellor, Félix Matos Rodríguez, took office and was welcomed by thousands of faculty and staff wearing REDforED, Lehman College faculty, staff and students will gather with NYS Senator Alessandra Biaggi to demand an end to the funding crisis at CUNY and a fair contract for CUNY's 30,000 faculty and staff.
The CUNY workers, represented by the Professional Staff Congress, wore red to urge Chancellor Matos Rodríguez to begin his tenure by negotiating a fair PSC-CUNY contract with that improves pay and conditions for all faculty and staff and ends the near-poverty pay of CUNY adjuncts.
Hundreds of thousands of New Yorkers depend on CUNY for a chance at a better life, including 42,000 degree-seeking CUNY students who live in the Bronx. Thousands more support their families working as faculty and professional staff at the University.
CUNY is the people's university. It serves a half-million New Yorkers. 60% of its degree-seeking students have family incomes below $30,000 per year; three quarters are people of color; 40% are immigrants.
Lehman College, Bronx Community College and Hostos Community College are among the most successful colleges in the nation at empowering poor students to enter the middle class.
But inadequate public funding of CUNY had led to tuition hikes, departmental cuts, staff shortages, uncompetitive salaries and exploitation of adjunct faculty, who earn a near-poverty wage. CUNY faculty and professional staff have worked 17 months without a new union contract.
Per-student state funding for CUNY senior colleges fell 18% between 2008 and 2018, and the college lost $8 million in revenue this year due to the TAP Gap, a flaw in state financial aid law. State and City funding for community colleges has failed to keep pace with needs.
© Erik McGregor – erikrivas@hotmail.com – 917-225-8963
PLEASE CONSIDER SUPPORTING MY WORK