New York, NY – A number of Jewish organizations held a protest on Monday, April 29 at 5:30 PM outside The New York Times offices, located at 620 Eighth Avenue (41 Street) over the alleged Anti-Semitic cartoon which was recently published in the newspaper.
Protestors gathered to express outrage about the newspaper publishing an anti-Semitic cartoon depicting Israeli Prime Minister Benjamin Netanyahu as a dog on a leash held by a blind President Donald Trump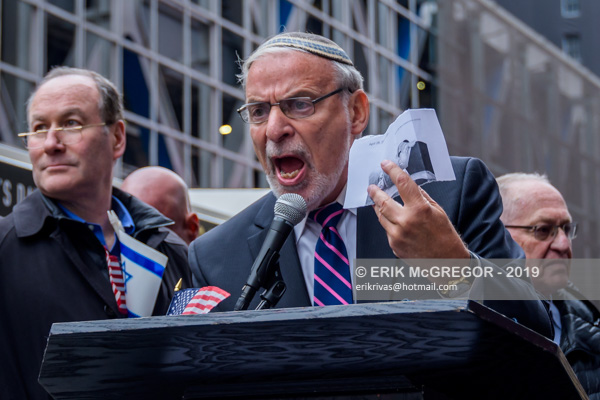 Protestors are also calling for the firing of editors and individuals responsible for this publication. The Coalition for Jewish Concerns, Americans for a Safe Israel (AFSI), and a coalition of other organizations are organizing. Speakers will include community leaders, Alan Dershowitz, and Assemblyman Dov Hikind.
Those gathered also prayed for the victims of the San Diego synagogue shooting.
As Israel's Ambassador to the United Nations, Danny Danon said: "The words, the demonstrators and the cartoons turn into shootings against worshipers in synagogues."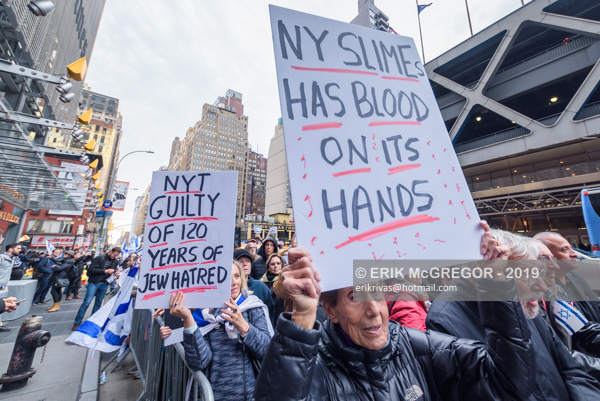 This was an alleged anti-Semitic cartoon depicting President Trump as a blind man wearing a yarmulke and being led by Prime Minister Benjamin Netanyahu in the shape of a seeing eye dog wearing a collar adorned by a blue star of David. Shame on the New York Times. Heads must roll, People must be fired.
Protestors carried American and Israeli flags and held signs saying "Shame On The New York Times", "NYT Has Jewish Blood On Their Hands," and "Fire the Anti-Semites."
© Erik McGregor – erikrivas@hotmail.com – 917-225-8963
PLEASE CONSIDER SUPPORTING MY WORK