New York, NY – The Black Lives Matter of Greater New York Youth Coalition brought together the family of Andrew Kearse and one of the two men attacked by the NYPD with batons. The group rallied on January 21, 2019 at the public area outside of NYPD Headquarters to let them know that the spirit of Dr. Martin Luther King, Jr.'s Dream is not present in their Policing.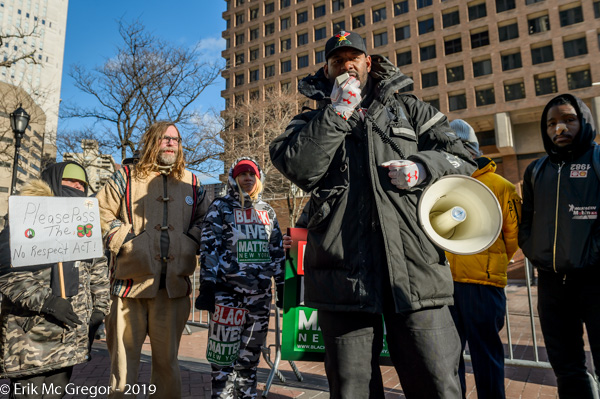 Sidney Williams, one of the men attacked by NYPD officers in the viral baton bashing video addressed the public for the first time at this rally.
Sydney Williams, 37, who was arrested, had a large scab on his nose and tissues shoved up his nostrils as he headed for arraignment. The incident, in which another man was also struck with batons and arrested, is under investigation by the Internal Affairs Bureau — and Mayor de Blasio called the video recording "really troubling."
Angelique Negroni-Kearse, wife of Andrew Kearse from #JusticeForAndrewKearse spoke on the #AndrewKearseAct, a bill being introduced by Assembly Member Nathalia Fernandez which would mandate law enforcement and correctional agents in the state to provide medical assistance when needed by those in custody.
In the moments before he died in the back of a police cruiser in Schenectady, New York, on May 11, 2017, 36-year-old Andrew Kearse frantically begged police for help, telling the officer who detained him: "I can't breathe." And he didn't say it just once. Police dash camera footage shows the Bronx man repeatedly pleading with Schenectady Police Officer Mark Weekes for assistance after he was arrested for trying to flee on foot after he was pulled over for driving erratically. Instead of giving him medical assistance, the officer simply gave Kearse some advice: "You probably shouldn't run next time."
There were also statements shared by BLMNY organizer and activist Hawk Newsome, civil rights attorney Sanford Rubenstein and community activist Anthony Beckford.
© Erik McGregor – erikrivas@hotmail.com – 917-225-8963
PLEASE CONSIDER SUPPORTING MY WORK