New York, NY – Thousands of New Yorkers took to the streets of Manhattan on June 25, 2023 to participate on the Reclaim Pride Coalition's (RPC) fifth annual Queer Liberation March, where no police, politicians or corporations were allowed to participate. This year theme "Trans and Queer, Forever Here!" conveys the community timeless truth, with all the beautiful diversity of identities and expressions they contain.
The Reclaim Pride Coalition (RPC) announced that the 5th annual Queer Liberation March (QLM) will be titled the Queer Liberation March: Trans and Queer, Forever Here. The annual march is sure to be loud, emotional & determined, all while remaining a peaceful protest (reactionary columns of lawless police units notwithstanding).
RPC calls the QLM a people's march, organized to represent all those who fall under the umbrella, "LGBTQIA2S+", ie, Lesbian, Gay, Bisexual, Transgender, Intersex, Asexual, Two-Spirit + Gender Non-conforming, Non-binary & our allies.
On the last Sunday of June (6/25) 2023, Queer communities in NYC will gather at 2pm for a gay & raucous rally in Foley Square, followed by a non-violent march through lower Manhattan, ending in Washington Square Park.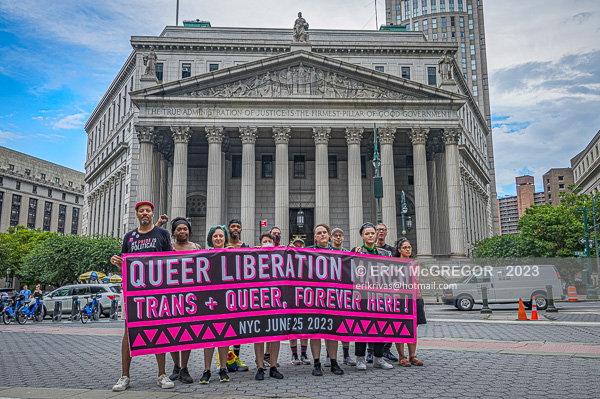 The title "Trans and Queer, Forever Here!" conveys our communities' timeless truth – with all the beautiful diversity of identities and expressions they contain – that we have always been part of the human experience, that we remain central to the woven story of human history, and that we will persist into the future… "Trans and Queer, Forever Here!" We always have been & We always will be!
Across the nation (USA) in 2023, right-wing politicians, lawyers, and judges are making a mockery of the U.S. Constitution by attacking LGBTQIA2S+ people at our most fundamental rights: speech, expression, and association. At the core, every legal attempt to curtail personal freedom and bodily autonomy is an attack on Queer people. We stand firm. We shall not be erased.
"The attacks against LGBTQIA2S+ youth and adults remain unprecedented. Since last year's Queer Liberation March, the christo-fascist patriarchy has only redoubled its crusade to transform this nation into a theocracy; a replica of Margaret Atwood's Gilead," said Reclaim Pride Coalition co-founder, Jay W. Walker. "As they flail about, spewing venom at our communities, we know that by standing proudly in our truth and speaking that truth every day, especially at Pride, we are stating very clearly that we shall not be moved."
The theme for this year's march "Trans and Queer, Forever Here!" also comes at a crucial time in which the very foundations of American democracy have cracked under the weight of home-grown, repugnant fascism. Following the attacks on the U.S. Capitol in 2021, numerous state laws have risen that put the safety and health of Queer youth in grave danger – infringing on our rights and freedoms through multiple means, while doubling-down on racist attitudes and approaches to law and legislation.
"Here we have segregation 2.0" said RPC Organizer, Paul Nocera "Criminalizing trans youth access to medical care, defunding entire library systems, and propping up parental choice and school vouchers, to essentially gut public education are all part of the plan. Nostalgia for the wild west justice, where the fastest gun sets the law, is fueled by a Supreme Court that can't seem to find the first half of the 2nd Amendment. Anything that isn't about white, cisgendered, heteronormative family units is a target in this proto-fascist American moment."
It is with this in mind that we march this year with our siblings and comrades to proclaim that there is no liberation for just a few, until we are all liberated!
"Our trans and queer youth need us now more than ever," said Reclaim Pride Coalition organizer Meg Jones, "with the myriad legislative efforts continuously being thrown at us, we need to continue to come together in community, to protect and support our queer and trans youth as they confront horrors no one should ever have to face."
As in past marches, this year's march will be pointedly political in every aspect.
"This is not the time for a party," said March organizer Jennifer Love Williams. "We must be our fierce and fabulous selves while taking an unflinching stands for the rights and safety of all LGBTQIA2S+ people and communities across the nation and the globe."
Since the first Queer Liberation March in 2019, the annual event has attracted 40-50,000 marchers each year. It is now the largest LGBTQIA2S+ protest in New York City. The Queer Liberation March proudly pushes forward each year with no regimented contingents, no corporate sponsors, and neither NYPD control over decision-making nor uniformed police marching.
The Queer Liberation March embodies the goals and spirit of the original Christopher Street Liberation Day March in 1970, born out of the 1969 Stonewall Uprising: social justice, freedom, and access for all!
© Erik McGregor – erikrivas@hotmail.com – 917-225-8963
PLEASE CONSIDER SUPPORTING MY WORK