New York, NY – Artists and volunteer organizers across New York City in connection with Naming the Lost built memorials at the Greenwood Cemetery entrance to honor the lives lost to COVID-19 and those impacted by the pandemic, in solidarity with Americans across the country to come together in mourning to recognize and grieve for the thousands of lives lost during the pandemic.
The memorial consisted of tributes made by 20 community groups from across New York City. The memorial will hold a prominent place along Green-Wood's historic wrought-iron fence, near the Main Entrance at Fifth Avenue at 25th Street. There will be a designated area for members of the public to add their own memorial contributions.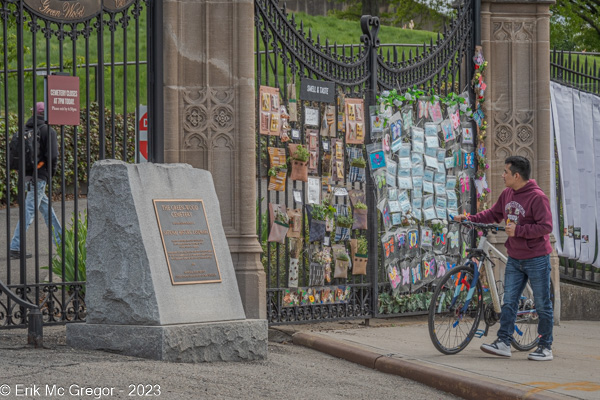 "Public COVID memorials help remind us that New Yorkers have suffered tremendous loss of life in this pandemic," Kay Turner, the project's consultant and an early project organizer. "We have also suffered other losses—loss of time, relationships, jobs, taste and smell. Many of our neighbors are stalled in the debilitating effects of Long COVID. NTLM creates memorials to recognize the many losses from COVID-19."
"Life's task is the validation of memory and the passing on of memories both in our personal and collective lives. NAMING THE LOST Memorials aims to create an annual, tangible wall of memory that does not allow the lives and souls of the many thousands of victims of the Covid Pandemic to escape our thoughts—thoughts which are needed to remember, grasp our losses, and find ways to create healthier and more compassionate communities," said Steve Zeitlin, Co-Director, City Lore.
"As our nation and city continue to recover from the pandemic, and as we begin to open our lives to a better future, we must always remember those whose lives have been forever changed by this pandemic, whether through the loss of loved ones or the ongoing healthcare needs of those who continue to suffer," said Richard J. Moylan, President of Green-Wood. "Green-Wood is proud to partner with NAMING THE LOST Memorials and City Lore, as well as all of our community partners, to present this poignant memorial."
To create this memorial, NAMING THE LOST Memorials has collaborated with 20 community groups from across the city whose constituents have suffered significant losses from COVID-19. Participants include: Casa Yurumein (Bronx); Arab American Association of New York, Guyana Cultural Association, Mixteca, Museo de Los Sures, Parent Child Relationship Association, Project Reach Youth Safe, Purelements Evolution in Dance, and Women's Empowerment Coalition of New York (Brooklyn); The City's "Missing Them", The W.O.W. Project, and Yaffa Cultural Arts (Manhattan); Bangladesh Institute of Performing Arts, the Jews of Jackson Heights, and International Dancer Zaman (Queens); La Colmena and Staten Island Museum (Staten Island); and Jews of Color arts workshop ("The Workshop"), Long Covid Justice, New Moon Sisters (multiple locations throughout the city) and Great Small Works.
"Naming the Lost Memorials is important because we get the opportunity to take pause, remember, and pay our respect to Guyanese and friends who have succumbed to COVID-19. We journey through the grief together, as we get a chance to honor and pay tribute to them," said Rose October, Assistant Cultural Director, Guyana Cultural Association (GCA) of NY.
Anna Roberts-Gevalt of Long Covid Justice, said, "We seek to hold space for members of our community to share their stories of sick and disabled grief, strength and hope, as we navigate the difficulties of living with our symptoms—and navigate the lack of care, help, and support."
NAMING THE LOST Memorials is a small team of artists, activists, and folklorists that has been curating memorial sites in New York City to name and remember victims of the COVID-19 pandemic since May 2020. They created homegrown memorials in a public setting to draw attention to the astounding number of COVID deaths and to give people a place to name their lost loved ones. Over Memorial Day weekend that year, public memorial sites were created across the city, including one at Green-Wood. The 2023 memorial, "THE MANY LOSSES FROM COVID-19", will be on view beginning May 3rd and can be used as a spontaneous mourning site until May 29th.
© Erik McGregor – erikrivas@hotmail.com – 917-225-8963
PLEASE CONSIDER SUPPORTING MY WORK