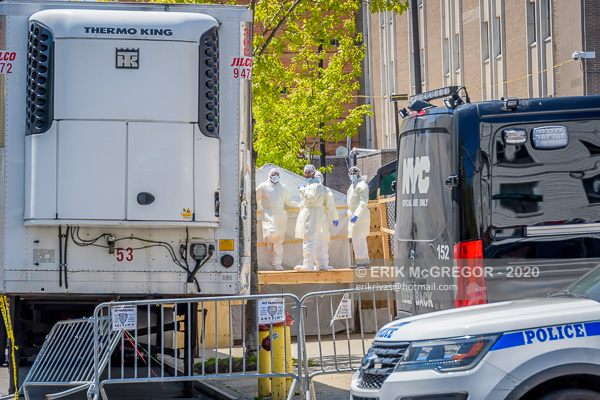 Brooklyn, NY – A refrigerated truck parked outside Wyckoff Hospital in Bushwick, serving as turn-based morgue in an attempt to alleviate funeral homes in Brooklyn neighborhoods during the Coronavirus COVID-19 pandemic in the United States.
Hospital personnel were seen pictured behind a barricade as they move bodies onto a refrigerated overflow trailer outside Wyckoff Hospital Center.
New York City has opened 'disaster morgues' around Brooklyn, using refrigerated trucks in Bushwick to store bodies as the city's morgues struggle to cope during the Covid-19 pandemic.
With the deaths occurring in a relatively short space of time, funeral homes' ability to get on top of the number of funerals and cremations needed has been severely strained, as has their capacity to store bodies beforehand.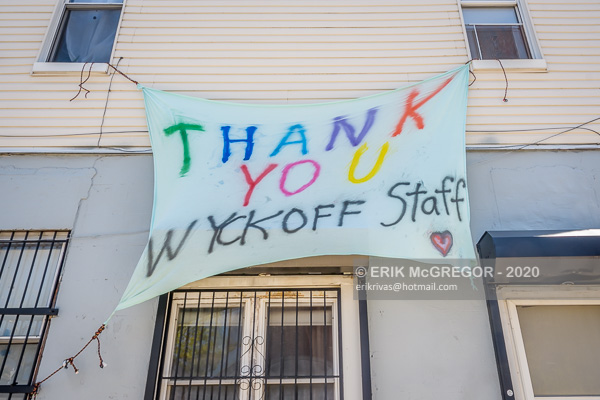 The solution is being seen as longer-term, and is designed to ease the pressure on funeral directors who have become overwhelmed, with the number of deaths in New York City now over 14,000, with a further 5,300 probable deaths.
© Erik McGregor – erikrivas@hotmail.com – 917-225-8963
PLEASE CONSIDER SUPPORTING MY WORK