New York, NY – Thousands of New Yorkers of all backgrounds joined community leaders and city and statewide elected officials in Foley Square at the "No Hate. No Fear." solidarity march in unity against the rise of anti-semitism on January 5, 2019.
The march is organized by UJA-Federation of New York (UJA) and the Jewish Community Relations Council of New York (JCRC-NY), as well as ADL-NY, AJC-NY, and the New York Board of Rabbis. Eric S. Goldstein, CEO of UJA-Federation of New York, and Michael Miller, executive vice president and CEO of Jewish Community Relations Council of New York.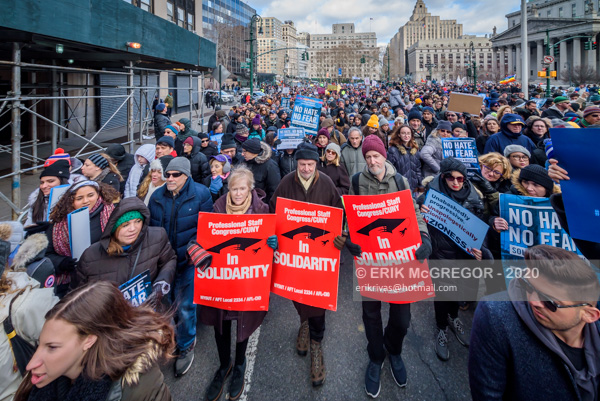 Following a number of recent violent, anti-Semitic attacks on Jews in the New York region, including those in Monsey, Brooklyn, and Jersey City, the solidarity march will bring together public figures, civic and nonprofit leaders, as well as a number of faith-based organizations and New Yorkers who stand united in the belief that hatred of any kind will not be tolerated in New York City.
For more than 100 years, UJA-Federation has brought New Yorkers together to solve some of the most pressing problems facing our community. Through UJA, more than 50,000 donors impact the issues that matter most to them, pooling their resources to care for Jews everywhere and New Yorkers of all backgrounds, respond to crises close to home and far away, and shape our Jewish future.
Working with a network of hundreds of nonprofits, UJA extends its reach from New York to Israel to nearly 70 other countries around the world, touching the lives of 4.5 million people each year.
© Erik McGregor – erikrivas@hotmail.com – 917-225-8963
PLEASE CONSIDER SUPPORTING MY WORK