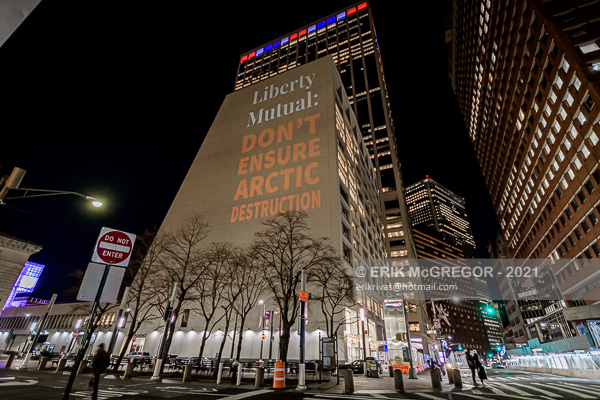 New York, NY – Activists with Rainforest Action Network and The Illuminator projected 30ft tall images on the side of a building in the New York financial district on January 6, 2021 with messages opposing the sale of land for oil extraction in the Arctic National Wildlife Refuge.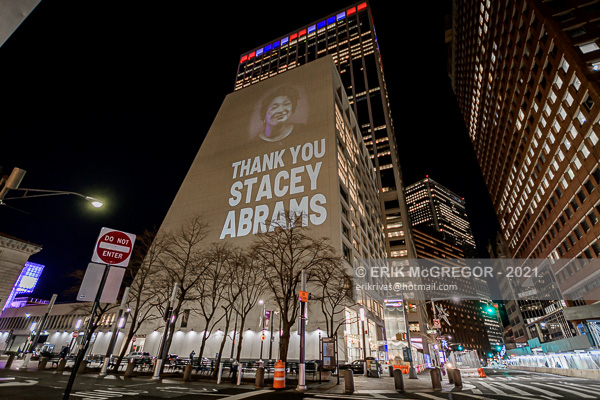 The group projected also images with messages celebrating the work of Stacey Abrams on the senate election victories in Georgia and also condemning the recent actions of Trump supporters in Washington DC.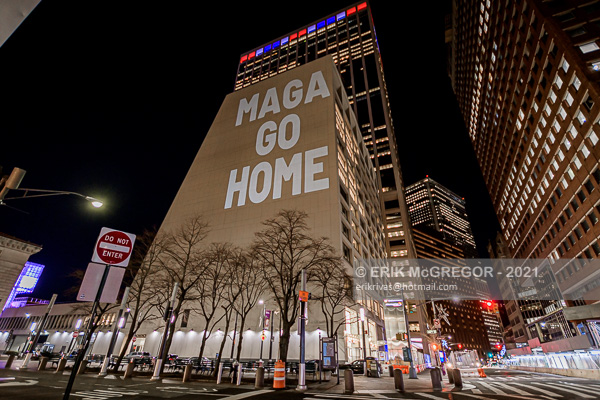 Activists in New York City are joining allies in Alaska and around the world, responding to Alaska Native leaders' call for an International Day of Solidarity on January 6, 2021 the day the lease sale in the Arctic National Wildlife Refuge is scheduled.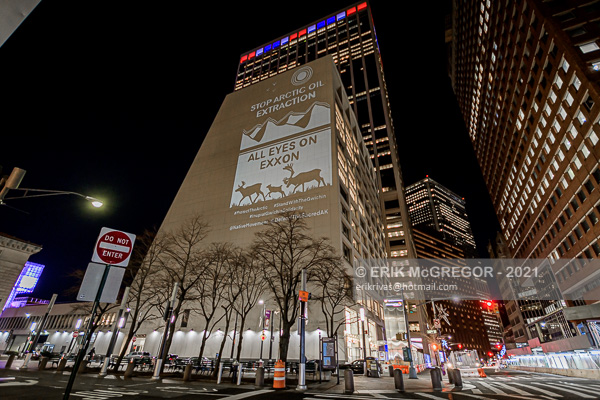 They are calling for New Yorkers to rise up with indigenous Gwich'in and Inupiaq leaders, who oppose oil extraction in the Arctic Refuge, to voice outrage at this rushed and illegal lease sale through the Twitter hashtag #ProtectTheArcticRefuge, because oil extraction threatens all our futures and global climate stability.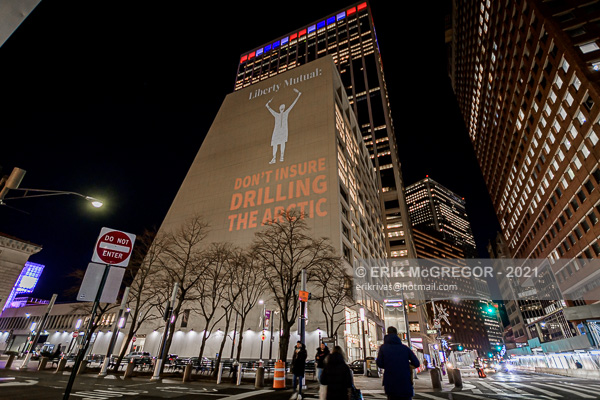 With harmfully short notice, the Bureau of Land Management (BLM) announced on December 7, 2020 that they will sell oil leases in what Native leaders call 'The Sacred Place Where Life Begins' — Iizhik Gwats'an Gwandaii Goodlit — also known as the Coastal Plain of the Arctic Refuge.
On November 17th, the BLM announced a "Call for Nominations," asking companies to submit their leasing interests. This followed the Record of Decision (on the Final Environmental Impact Statement), released August 17th, in which was selected Alternative B: the most egregious and harmful option. This opens the entire coastal plain, the birthing grounds of the Porcupine Caribou, to oil extraction.
Defend the Sacred Alaska is an Alaskan movement to boldly uplift our sacred connection to each other, the earth, and all living beings.
© Erik McGregor – erikrivas@hotmail.com – 917-225-8963
PLEASE CONSIDER SUPPORTING MY WORK