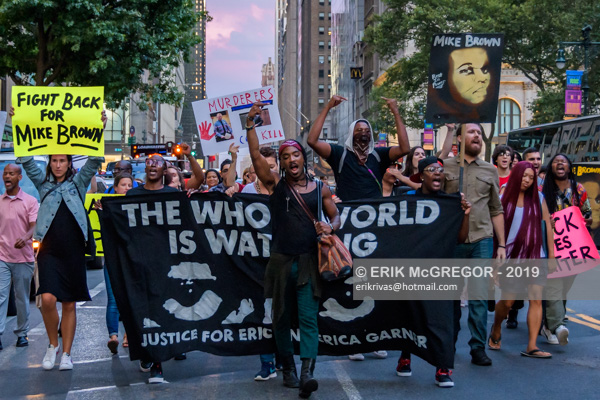 New York, NY – Community organizations and Activists demanding police accountability gathered for a rally and march at the clock in Grand Central Terminal on August 9, 2019 to commemorate the 5 year anniversary of Mike Brown's murder by Ferguson Police Officer Darren Wilson.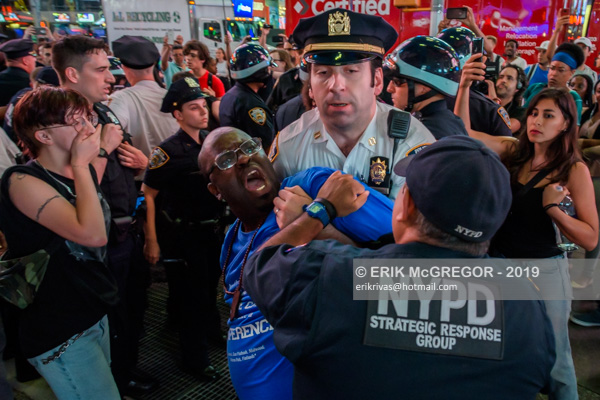 Four participants were arrested during the march in Times Square for alleged disorderly conduct.
On August 9, 2014, 18-year-old Michael Brown was shot and killed by Ferguson Police Officer Darren Wilson after being harassed for walking in the street.
The murder and the subsequent decision to not indict Wilson, along with the recent murder of Eric Garner by the NYPD, sparked a wave of protests throughout the summer and fall of 2014 that helped ignite the Black Lives Matter movement.
In New York, NYC Shut It Down began #PeoplesMonday, what would become a four-year-long weekly demonstration against the police murder of Black, Brown, and Indigenous people. We dedicated our first #PeoplesMonday to Mike Brown.
Now, on the 5 year anniversary of Brown's murder, we join at the nexus of those protests, Grand Central Terminal, where we once again lift up his name and tell his story.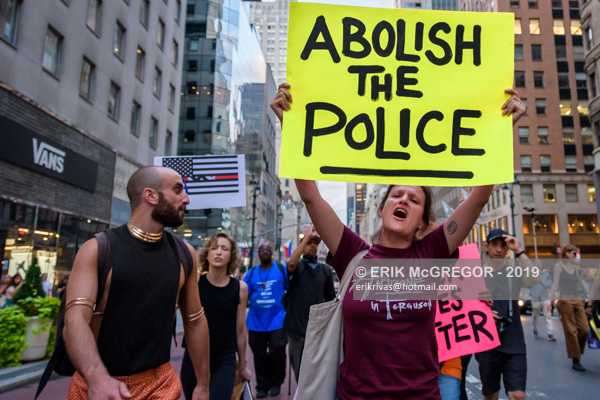 In 2014 we chanted "Hand's Up, Don't Shoot." Today we recognize it will take more than that passive plea to upend the plague of white supremacy that has ruled this country since its inception and that took Mike Brown's life. Today we say "Fists Up, Fight Back!"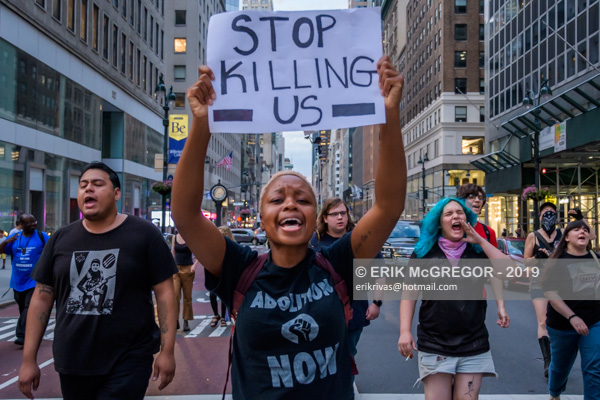 NYC_ShutItDown is a group of organizers who came together after the murders of Eric Garner and Mike Brown. We are a multiethnic, multigenerational group of organizers who fight against patriarchy, racism and for police abolition.
© Erik McGregor – erikrivas@hotmail.com – 917-225-8963
PLEASE CONSIDER SUPPORTING MY WORK