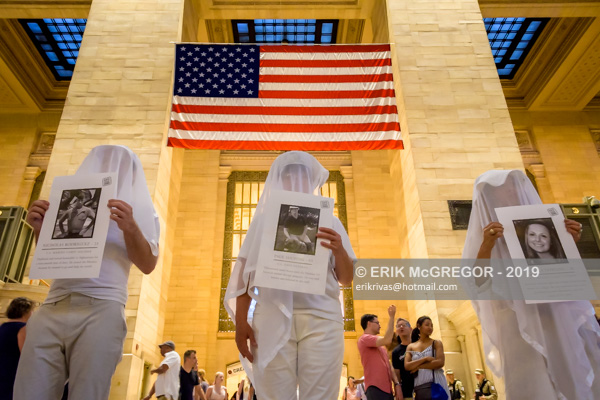 New York, NY – Activist group Gays Against Guns held a silent vigil in Grand Central Station on June 27, 2019 to help raise awareness about PTSD bringing their iconic 'Human Beings' – silent figures veiled and dressed in white who honor gun violence victims, holding placards to highlight the forgotten victims of PTSD who take their own lives.
PTSD Awareness Day became official in 2010 as a tribute to Staff Sergeant Joe Biel, who served two tours of duty in Iraq and died by suicide after he returned home. SSgt. Biel's birthday, June 27, was selected as the official PTSD Awareness Day, now observed every year throughout the United States.
Anyone at any age can get PTSD. Post Traumatic Stress Disorder (PTSD) can occur when people have experienced or witnessed a horrifying ordeal that involves physical harm or the threat of physical harm.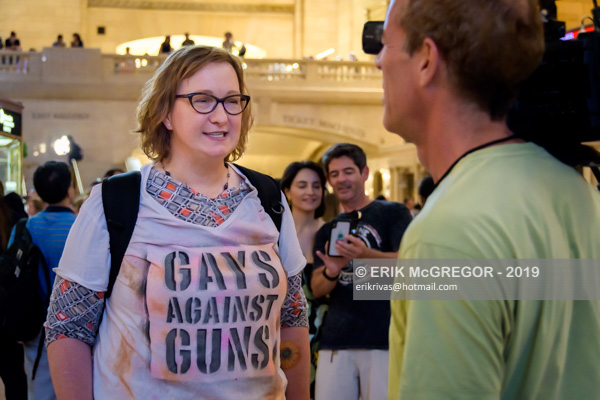 War Veterans, children, and people who have been through a physical or sexual assault, abuse, accident, witnessing and surviving a shooting, or other serious event can develop PTSD. And, tragically, there is a very real connection between PTSD and suicide.
Recently Jeremy Richman , father of Avielle who was killed in the massacre at Sandy Hook Elementary School took his own life. And to date two survivors of the Parkland massacre have taken their own lives;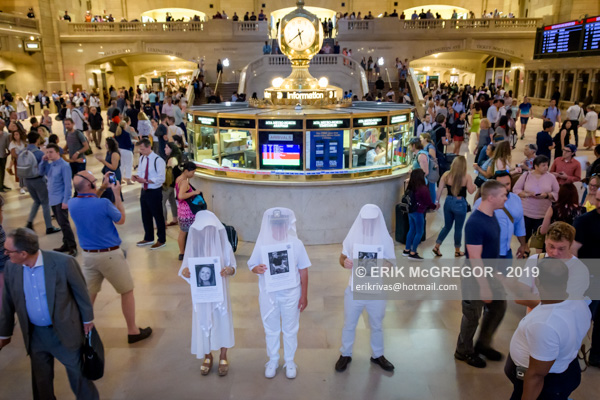 Guns are the deadliest method of suicide:
An average of 20 Veterans die by suicide every day
70% of Veteran suicides were the result of guns
50% of U.S. non-Veteran suicides were the result of guns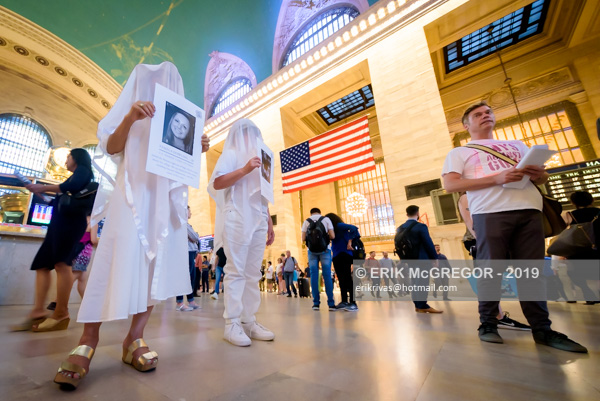 "…the decision to end one's life is often spontaneous — that's why eliminating easy access to firearms during a mental health crisis is so important." – Retired Gen. Peter Chiarelli, former vice chief of staff of the Army
GAYS AGAINST GUNS is an inclusive direct-action group of LGBTQ+ people and allies committed to nonviolently breaking the gun industry's chain of death. One way we work to accomplish this goal is by honoring a person who would have wanted to be here today, but cannot. Our HUMAN BEINGS are veiled figures dressed in white, remain silent, and carry an image of the person they are representing. Today we honor Veterans who died due to a self-inflicted gunshot wound.
© Erik McGregor – erikrivas@hotmail.com – 917-225-8963
PLEASE CONSIDER SUPPORTING MY WORK