NYC Rise Up with Pittsburgh – Solidarity vigil with gun violence victims
PLEASE CONSIDER SUPPORTING MY WORK
New York, NY – Members of the Jewish community and allies gathered in Battery Park on October 30, 2018, holding a candlelight vigil to demonstrate support for the victims of white nationalism in Pittsburgh and resist this administration's bigotry. Together, #WeWillOutliveThem.
Today, Trump went to Pittsburgh. Pittsburgh Jewish leaders and allies are calling on Trump to denounce white nationalism and violence in all its forms — and they're ready to resist him.
This is one of several solidarity events across the country. Now is the time to turn out, show solidarity, and hold each other close.
* We must drown out Trump's empty words as he enables white nationalists.
* We must resist his attack on immigrant communities as he prepares an executive order to end birthright citizenship.
* We must come together in solidarity, love, and community.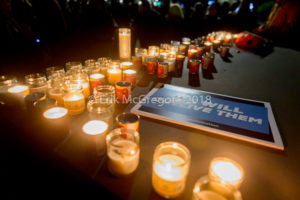 #Activism #attack #BatteryPark #CandlelightVigil #demonstration #DomesticTerrorism #enough #GunControl #GunViolence #HateCrime #JewishCommunity #massacre #MassShooting #nationalism #NewYork #NotMyPresident #NYC #Pittsburgh #‎Solidarity #stopgunviolence #StopTheHate #Synagogue #trumpvsallofus #victims #Vigil #WeAreNotAfraid #WhiteSupremacy #WeWillOutliveThem
© Erik McGregor – erikrivas@hotmail.com – 917-225-8963