Call to Action: TYS Laundromat, Pay Your Workers What You Owe
PLEASE CONSIDER SUPPORTING MY WORK
New York, NY – The TYS Laundromat workers held a picket line on October 31, 2018 outside the laundromat at 215 E 116th St, East Harlem. Minimum wage, overtime pay and appropriate protective gear. These were the demands that workers at TYS Laundromat in East Harlem fought for and won. But now TYS is cutting workers' schedules as a retaliation against the workers rights to organize.
For many years, the workers at TYS Laundromat have suffered from wage theft. For their work and dedication, they were regularly paid a sub-minimum wage without overtime pay.
The TYS Laundromat workers are saying "No more". Their demands to TYS are simple:
* Treat your workers with respect.
* Provide a safe work environment with appropriate safety gear and conditions.
* Pay a minimum wage with overtime.
* Come to the negotiation table in good faith for compensation of back wages.
TYS has met the workers' demands by paying the minimum wage and providing safety equipment. But now TYS is refusing to negotiate with its employees. They have cut their business hours and taken an additional day of work away from their employees, cutting workers' schedules by 13 hours a week. This is unacceptable. It is a clear retaliation against the workers, violating their rights to compensation and their rights to organize.
What do we do when the boss retaliates? Fight back!
Together we will demonstrate our community strength and let TYS Laundromat know that retaliation will not be tolerated.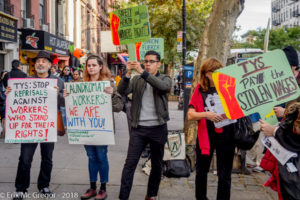 #Activism #demonstration #DirectAction #EastHarlem #FairContracts #FairWages #Harlem #HastaLaHuelga #Labor #LaborRights #LaundromatWorkers #LaundryWorkersCenter #LivingWage #LWC #MinimumWage #NewYork #NewYorkCity #NewYorkers #NYC #RetailLaundromats #safety #Solidarity #StreetVendorProject #TYSLaundromat #Union #WageTheft #WorkerRights #WorkersPower
© Erik McGregor – erikrivas@hotmail.com – 917-225-8963