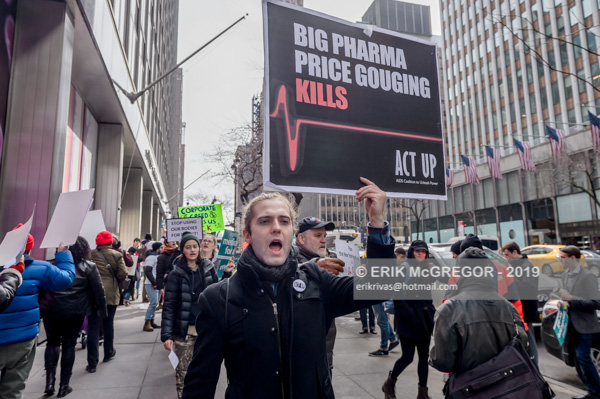 New York, NY – Amid growing public and Congressional outrage over sky-high drug prices -including a recent U.S. Senate hearing where industry executives were grilled– scores of medical professionals, medical students, ACTUP New York and their supporters held a rousing protest rally on March 3, 2019 outside Pfizer World Headquarters in New York one of the world's largest drug companies. At the beginning of this year, the corporate giant announced price increases for 40 of its drugs.
"We're here today because we're literally sick and tired of being ripped off by big drug companies like Pfizer that rake in huge profits off our backs and out of our wallets," said Mark Hannay, Director of Metro Health Care for All Campaign. "Their greed has got to stop, and we need our government to step in to take control of the situation and protect patients."
"One in four U.S. families have difficulty paying for their prescription medications. To make matters worse, per capita spending on prescription drugs, already the highest in the world, is expected to nearly double in the coming decade, said Dimitri Akrivos, spokesperson for the event's organizer, Picket the Profiteers. "It is time to end this national crisis by enacting a single payer, Medicare for All healthcare system that includes sensible drug pricing regulation."
Overall the pharmaceutical industry –the most profitable in the world– has hiked prices by an average of 6.3% so far this year. Their continued price-gouging causes many patients to limit or go without the medicines they need because they can't afford them, causing people to suffer with continued illness and even die.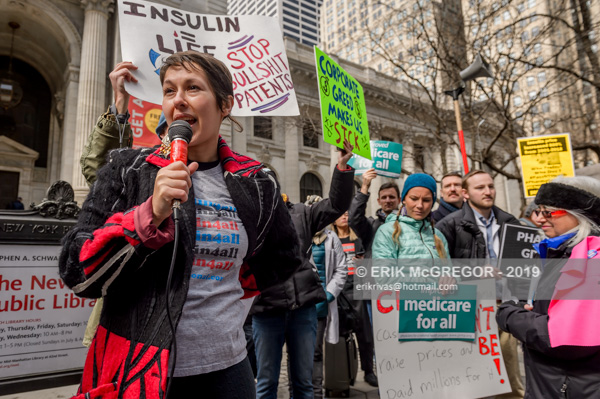 "Insulin marked the beginning of modern medical progress and turned the once fatal disease into a chronic illness. Yet this medicine –estimated to cost less than $10 to manufacture — is now one of the 7 most expensive liquids in the world," said Marina Tsaplina, #insulin4all patient activist, and founder of THE BETES. "People with diabetes and many other diseases are dying because we have allowed a system of greed to develop. Our bodies have been turned into mere sources of profit for the pharmaceutical and insurance industries."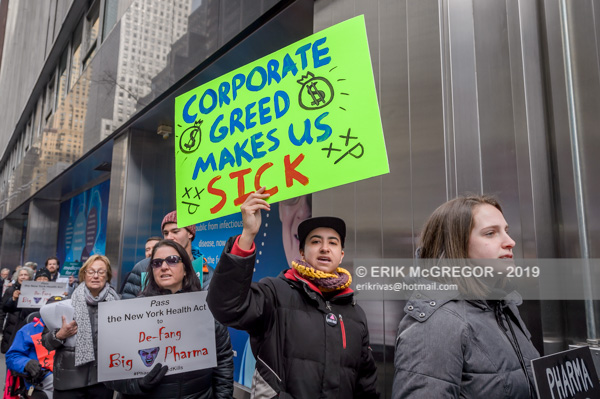 The updated New York Health Act introduced in the New York State Legislature and the new Medicare for All Act just introduced in the U.S. House of Representatives, would establish guaranteed, universal publicly-funded (single-payer) healthcare systems, at the state and federal level respectively, that would cover all prescription costs and require drug companies to negotiate bulk discounts. The protestors condemned Pfizer and its insurance industry and other big-business allies for using campaign contributions, lobbying muscle, and deceptive misinformation about these bills to preserve their lucrative business models that deny medications and care to millions.
"We are organizing a movement to hold corporate actors like Pfizer accountable for the lives they put in jeopardy while they continue to chase profits for their shareholders," said Katie Robbins, Director of the Campaign for New York Health. "Our demand for a single-payer universal healthcare program as embodied in the New York Health Act is powerful because it will make sure that the people's needs and the ability to access life-saving drugs come before a corporation's profits."
The protest was organized in conjunction with a national conference of the 73-chapter Students for a National Health Program held this weekend at Columbia University. The group is an affiliate of Physicians for a National Health Program, a national organization of health professionals who advocate for single-payer health care programs at the state and federal level.
"Four years ago when I was turned away from getting a much-needed dental surgery because I couldn't pay for it, I never imagined I'd become a medical student who one day would be fighting to make sure that never happens to anyone again," said Robertha Barnes, National Board Member of Students for a National Health Program and a second-year MS/MD student at SUNY Upstate Medical University in Syracuse. "The New York Health Act and federal Medicare for All bill call for health care systems designed to serve patients and not the executives and stockholders of insurance and pharmaceutical companies. We need to make our voices heard so that justice is given to those who've had to forgo lifesaving drugs because they couldn't afford them, and those who've had to file for bankruptcy because of unaffordable medical bills."
"Doctors across the country are tired of insurance companies denying access to care for our patients, and pharmaceutical companies like Pfizer inflating their prices so high that patients can't take their medicines," said Dr. Roona Ray, a family physician and board member of Physicians for a National Health Program – New York Metro. "Everyone suffers but communities of color are suffering more. I am tired of practicing in the segregated health system that the insurance companies and pharmaceuticals create. No more haves and have-nots. We in Physicians for a National Health Program support the New York Health Act and the Medicare for All Act nationally because these bills will end the stranglehold that these companies have on our patients' lives."
Picket the Profiteers is a grassroots direct action project formed in 2018 to fight for a single-payer healthcare program by confronting and calling out the vested special interests who control and profit off the current medical system. Based out of the Campaign for New York Health, it is composed of these cosponsoring organizations:
ACT UP/NY
Democratic Socialists of America
Fight Back Bay Ridge
Healthcare Equity Action League of New York
International Action Center
International Socialist Organization NYC
Metro New York Health Care for All
New York State Nurses Association
Peoples Power Assembly
Physicians for a National Health Program – NY Metro
Rise and Resist
Students for a National Health Program
Uptown Progressive Action
© Erik McGregor – erikrivas@hotmail.com – 917-225-8963
PLEASE CONSIDER SUPPORTING MY WORK