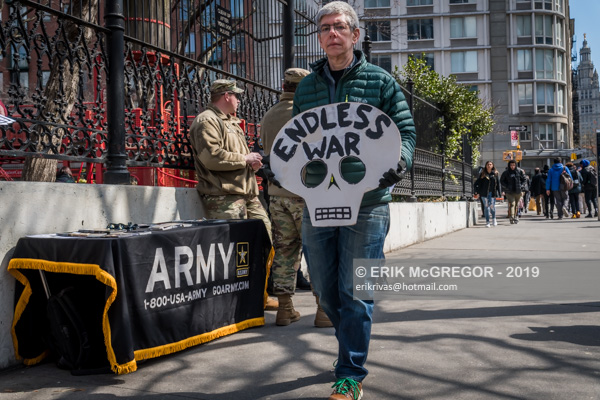 New York, NY – Anti-War activists gathered on March 19, 2019, the 16th anniversary of the invasion of Iraq, outside 26 Federal Plaza in lower Manhattan for a rally, followed by a march by several military recruiting offices along Chambers Street and to Borough of Manhattan Community College, to oppose the United States' endless cycle of war and militarism.
Tuesday, March 19 marks the 16th anniversary of the invasion of Iraq. Despite a formal withdrawal of troops in 2011, this U.S.-led military operation was renewed in 2014 as Operation Inherent Resolve and continues in Iraq to this day.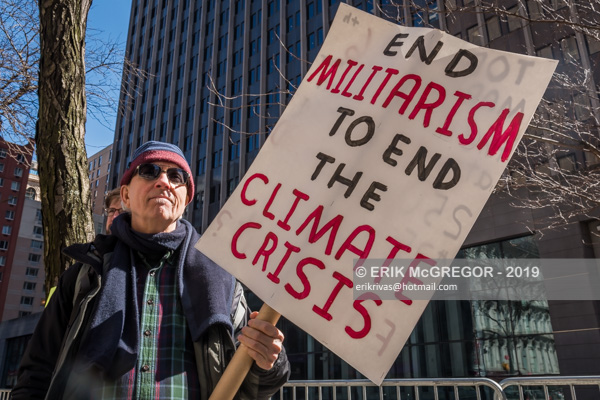 To date, the Iraq War has resulted in:
Some 200,000 civilian deaths and
Over 50,000 combatant deaths
At a cost of $2.4 trillion through 2017 alone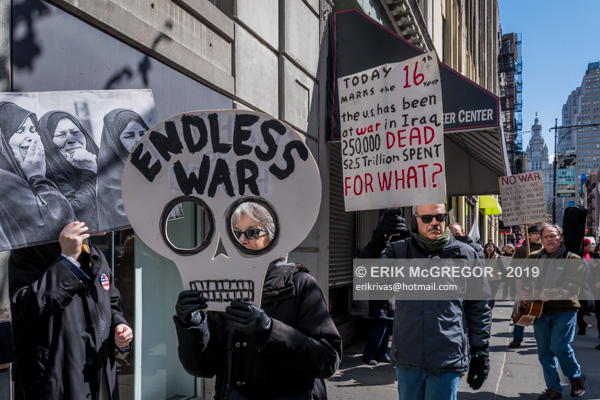 That money could have been used to fight poverty, protect our threatened environment, and educate our people. Instead, Washington has used it to destroy lives and enrich war profiteers including Amazon, L3 Communications, Raytheon, and General Dynamics.
Join our citywide coalition of peace and social justice groups to:
Oppose endless war and militarism,
Expose the intersection of the Iraq War with many forms of oppression, and
Build power and work together.
Participants met at 26 Federal Plaza, marching past several military recruiting offices along Chambers Street, to the Borough of Manhattan Community College (BMCC), where students, many of them economically disadvantaged, are regularly targeted by recruiters to join the armed forces.
Participants offered information relating war and militarism to the environment and other struggles for social justice.
This action is supported by Granny Peace Brigade, NYC Metro Raging Grannies, Extinction Rebellion (XR), Metropolitan Anarchist Coordinating Council (MACC), NYC War Resisters League, Catholic Worker, World Can't Wait, Peace Action/Manhattan, Vets for Peace/Chapter 34, Green Party of Brooklyn, Brooklyn For Peace, Code Pink NYC, NYC Kairos Community, Pax Christi Metro New York, Peace Action New York State, Peace Action Bay Ridge, Peace Action Staten Island
The NYC chapter (formed in 2002) of the War Resisters League, is dedicated to nonviolent direct action against all wars and their causes. We meet periodically to plan antiwar demonstrations around NYC.
The War Resisters League affirms that all war is a crime against humanity. We are determined not to support any kind of war, international or civil, and to strive nonviolently for the removal of all causes of war, including racism, sexism and all forms of exploitation.
© Erik McGregor – erikrivas@hotmail.com – 917-225-8963
PLEASE CONSIDER SUPPORTING MY WORK