New York, NY – New Sanctuary Coalition of New York City organized The Jericho Walk, on November 14, 2019 outside New York Immigration Court at 26 Federal Plaza in New York.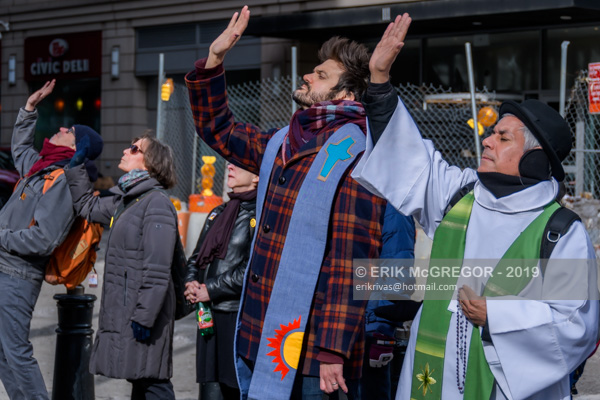 The weekly action is part of an effort to show solidarity with immigrants speaking out against the injustices and inhumanity of our broken immigration system and to call for an immigration law and policy that respect the dignity of all immigrants.
The Jericho Walk is a march in silence and prayer in solidarity with Jean Montrevil, Ravi Ragbir and all immigrants who are facing deportation.
26 Federal Plaza houses the Immigration and Customs Enforcement (ICE) offices and immigration courts. It is a site of extreme trauma for immigrant communities.
Our brothers and sisters come into this building with a real fear that they can be picked up and taken away from their families at any time.
During the march, we walk in prayerful silence and pause at the front of the building where we raise our hands in prayer.
© Erik McGregor – erikrivas@hotmail.com – 917-225-8963
PLEASE CONSIDER SUPPORTING MY WORK