New York, NY – New York celebrated the fifth annual Disability Pride with a colorful parade, marching from Madison Square Park to Union Square Park on July 14, 2019. The event promotes inclusion, awareness, and visibility of people with disabilities, and redefine public perception of disability by participating in an annual Disability Pride parade in New York City and to show support and solidarity with people with disabilities.

Writer, activist and disability rights advocate Nadina LaSpina was chosen as the NYC Disability Pride Grand Marshall this year. This year the parade is featuring the creativity of the community so floats, costumes, decorated wheelchairs, creative hairstyles, umbrellas, T shirts. etc. are encouraged.
Earlier in the day members of the activist group Rise and Resist held a mock ribbon cutting ceremony at the subway elevator on the NW corner of Park Avenue and 23rd Street, to remind the MTA how much work there is to be done, using a Cuomo's life-sized replica cutting the ribbon and see what it would be like.
Under Cuomo's direction, the MTA has acted as if they are above the law, ignoring both the ADA and New York City Human Rights Law. Cuomo continues to fight a lawsuit even though Judge Shlomo Hagler rejected the MTA's motion to dismiss, saying "There has never been a decision from any court that has preempted the New York City Human Rights Law in the area of discrimination.
There can never be a situation where the state would license any agency to discriminate against any individual." Rather than agreeing to a timeline and a reasonable percent of the budget to go to future accessibility improvements, the MTA is hiring an outside law firm for a protracted legal battle, undoubtedly for millions of dollars.
Every year the Mayor's Office for People with Disabilities works with the non-profit organization Disability Pride NYC to organize the New York City Disability Pride Parade.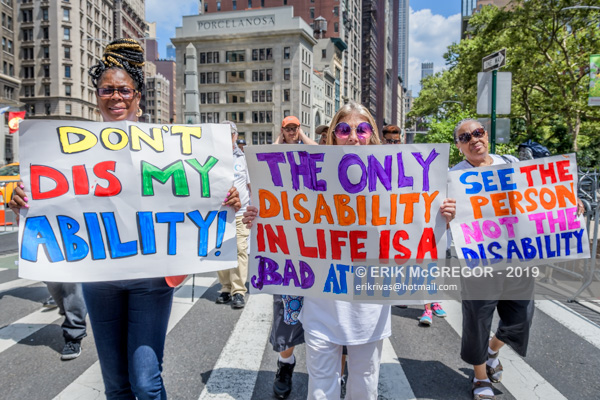 The force behind the march is no other than world renowned jazz pianist and Hammond organist Mike LeDonne, a fixture on the city's jazz scene for decades. Since moving to New York City in 1978 he has worked with a wide spectrum of Jazz greats from Benny Goodman to Sonny Rollins, Bobby Hutcherson and many others.
On Valentines Day 2004, Mike and his wife, Margaret, had a daughter – Mary. She was born with a very rare syndrome called Prader-Willi and was also diagnosed with hydrocephalus.
Through her, Mike and Margaret started to learn what life is like for a person with disabilities. They began to see the misperceptions and injustices surrounding this group of people. In 2012, through his love for his daughter, Mike started the wheels in motion towards creating Disability Pride Day in New York City, which would be an annual event like any other ethnic parade in the city.
He worked for several years to create an annual Disability Pride Day and parade to shine a spotlight on people with mental and physical disabilities.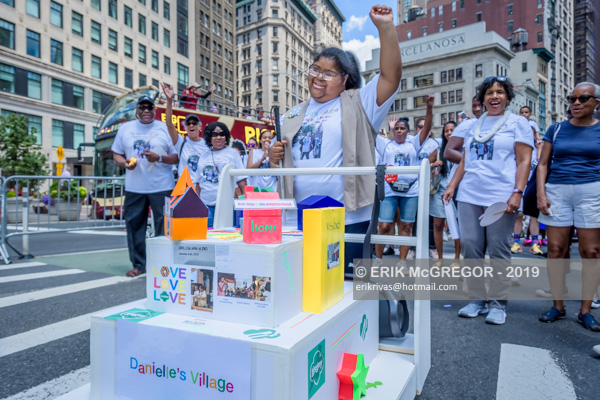 After 4 years of hard work and dedication, Disability Pride NYC was up and running as a bonafide non profit organization, and the first parade took place on July 12, 2015 which was also the 25th anniversary of the signing of the ADA.
While the signing of the ADA placed immediate legislative demands to ensure equal access and equal treatment of people with disabilities, deep-rooted assumptions and stereotypical biases were not instantly transformed with the stroke of a pen.
People with disabilities still face prejudice and bias with the stereotypical portrayal of people with disabilities in the movies and in the media, physical barriers to schools, housing and to voting stations, and lack of affordable health care.
The promise of the ADA is yet to be fully realized, but the disability rights movement continues to make great strides towards the empowerment and self-determination of Americans with disabilities.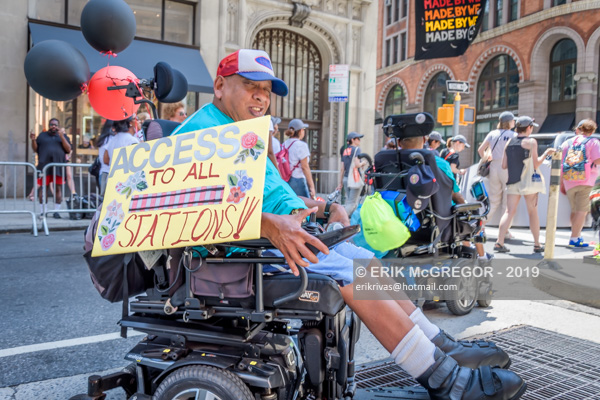 The mission of Disability Pride NYC is to promote inclusion, awareness, and visibility of people with disabilities, and redefine public perception of disability. Their goal is to establish an annual Disability Pride parade in New York City and to support people with disabilities in whatever way they can.
© Erik McGregor – erikrivas@hotmail.com – 917-225-8963
PLEASE CONSIDER SUPPORTING MY WORK