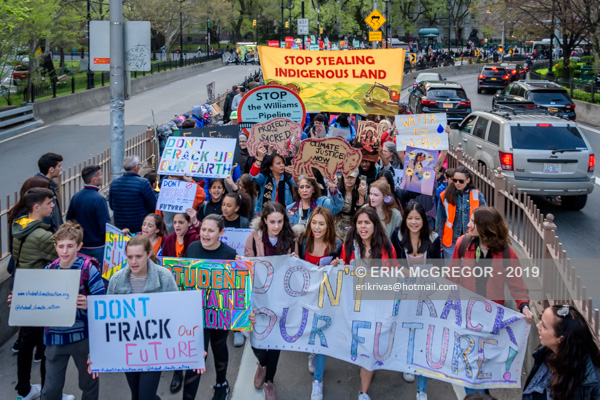 New York, NY – In a line that stretched upwards of a mile, over 700 New Yorkers marched across the Brooklyn Bridge on April 18, 2019 to demand Governor Andrew Cuomo to block the controversial Williams Northeast Supply Enhancement (NESE) Pipeline, which would carry fracked gas through New York Harbor.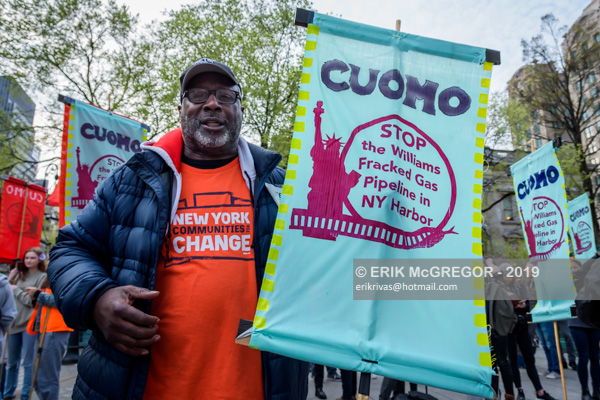 The marchers join a groundswell of opposition to the project that includes over 16,000 New Yorkers and over 250 organizations across the state. In March, 60+ elected officials—including City Council Speaker Corey Johnson, Comptroller Scott Stringer, and Public Advocate Jumaane Williams—signed a letter calling on Governor Cuomo to stop the pipeline.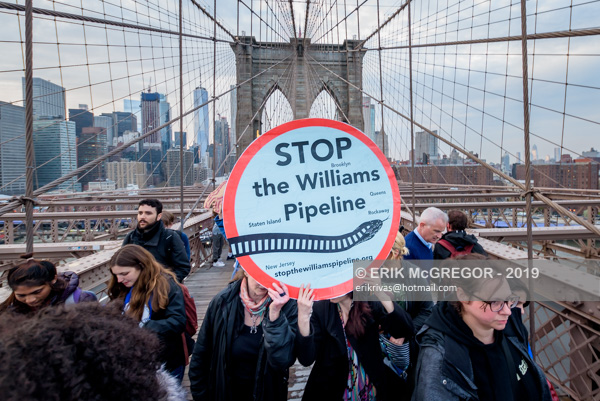 In anticipation of the march, the Stop the Williams Pipeline Coalition issued the following statement:
"Today, we took our grassroots movement to the Brooklyn Bridge to demonstrate to Governor Cuomo how New Yorkers really feel about this destructive, unneeded pipeline. Fracked gas isn't a bridge fuel; it's a broken promise, particularly for a Governor who supposedly supports a Green New Deal. Our message to the Governor, then, couldn't be simpler: walk the talk, join us on the right side of history, and deny this pipeline."
"For the past two and a half years, the Stop the Williams Pipeline Coalition has led a science and fact based campaign to persuade Governor Cuomo to follow New York State law, protect our water, and block this project. We have built tremendous political power in the New York metro region while supporting local communities' desire to move to a 100% renewable energy system. We are residents of a waterfront city that is already feeling the effects of the climate crisis. Yet the utilities, encouraged by Trump and backed by business associations, are pushing back on our achievements in order to further line their pockets, keep business as usual, monopolize our lives, and serve private shareholders at the expense of public health and safety. We are proud of what we have built and look forward to New York's Department of Environmental Conservation standing with the people to help further our collective commitment to a 100% renewable New York."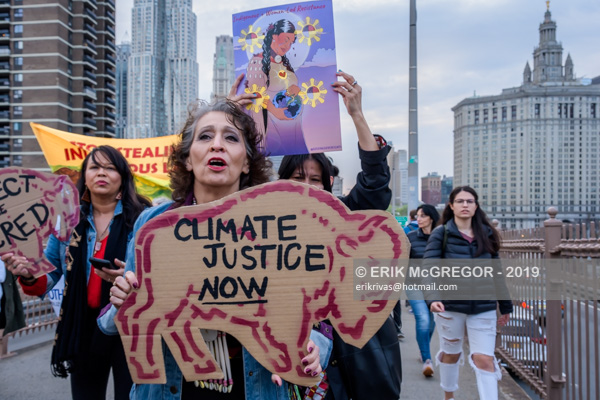 At a rally before the march, speakers included Public Advocate Jumaane Williams, Alexandria Villaseñor, a 13-year-old climate justice activist who co-organized the youth climate strike in New York City and has been striking from school at the UN every Friday for 18 weeks; Christine Nobiss, founder/director of Seeding Sovereignty's SHIFT program and member of the Plains Cree-Saulteaux of the George Gordon First Nation; and LaDonna Brave Bull Allard (Ta Maka Waste Win-Her Good Earth Woman), a historian, genealogist, and Water Protector, and a member of the Standing Rock Sioux Tribe in North Dakota and South Dakota.
Williams' NESE Pipeline would run for 23 miles through Lower New York Bay from New Jersey to Queens, passing a mile and a half from Staten Island before connecting with an existing pipeline off of Rockaway Beach, the very areas most devastated by and still recovering from Superstorm Sandy. Governor Cuomo and the New York State Department of Environmental Conservation (NYSDEC) have until May 16 to either reject, approve, or delay a key permit for the project.
The Environmental Protection Committee of the New York City Council, headed by Councilmember Costa Constantinides, who opposes the pipeline, dedicated its April hearing to the project and will soon decide on passing a resolution against it.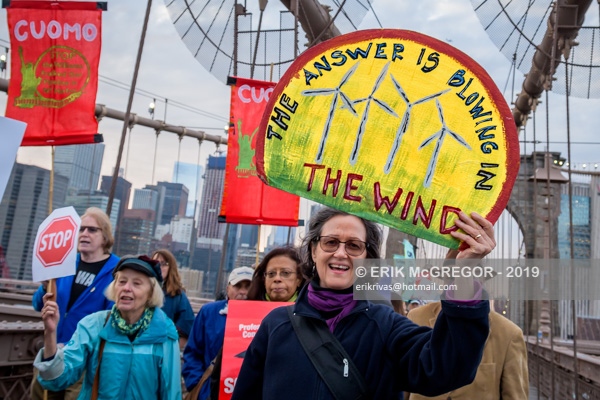 A detailed report released last month, authored by a former regional director of the NYSDEC, showed that the proposed pipeline is not only dangerous, but also completely unnecessary. National Grid, the would-be sole buyer of the pipeline's gas, has yet to refute the report's findings, despite threatening a moratorium on new gas hookups if the pipeline isn't built. In a video recently sent to customers, the utility made false claims to support that position, including referring to natural gas as "clean.".
Last week, Trump issued two executive orders with the goal of curtailing states' abilities to block pipelines, effectively putting the fight against the Williams NESE Pipeline—and Cuomo's pending decision—on the national stage.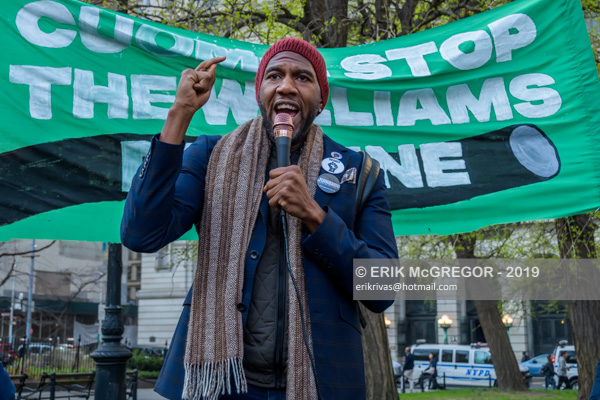 New York City Public Advocate Jumaane Williams joined the crowd with a clear message to Cuomo: "Cuomo, you don't get to say you banned fracking when you're letting fracked gas run through New York State," he said. "You must stand up now to prevent this pipeline from coming through New York State."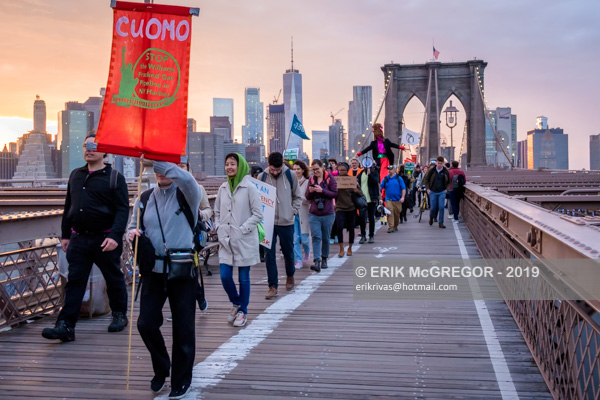 Opposition to pipelines across the country continues to grow. As communities everywhere gear up for Promise to Protect, a pledge to stand with indigenous communities in the path of the Keystone XL Pipeline (coming to NYC April 27-28), New Yorkers are preparing for non-violent direct action to stop the Williams NESE pipeline in the event that Cuomo fails to act.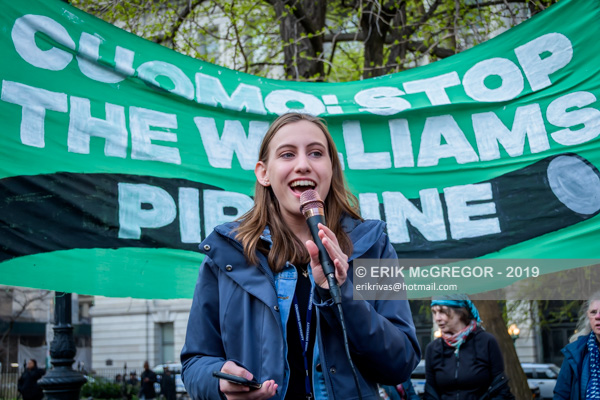 "My demands are simple. I want world leaders to come together and agree to reduce global greenhouse gas emissions in time to save our planet and my future. In Pennsylvania, where part of this pipeline starts, young people, and especially those young people who are poor and of color, are being sickened by the pollution from fracking. What about their futures? This is why the youth are mobilizing. We know what needs to happen to save our planet! We must reduce greenhouse gas emissions, we must transition to renewable energy and we must KEEP IT IN THE GROUND! said Alexandria Villaseñor, 13-year-old activist and co-organizer of the youth climate strike in New York City who has been striking from school at the UN every Friday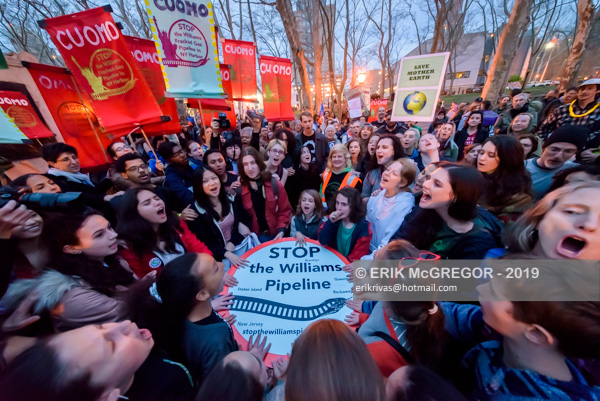 The Stop the Williams Pipeline coalition is organized by 350Brooklyn, 350.org, Food and Water Watch, New York Communities for Change, Rockaway Beach Civic Association, Sane Energy Project, and Surfrider NYC Chapter
© Erik McGregor – erikrivas@hotmail.com – 917-225-8963
PLEASE CONSIDER SUPPORTING MY WORK