New York, NY – To cap off a month of escalation around Representative Alexandria Ocasio-Cortez and Senator Ed Markey's Green New Deal Resolution, Sunrise Movement is hosting a National Day of Action.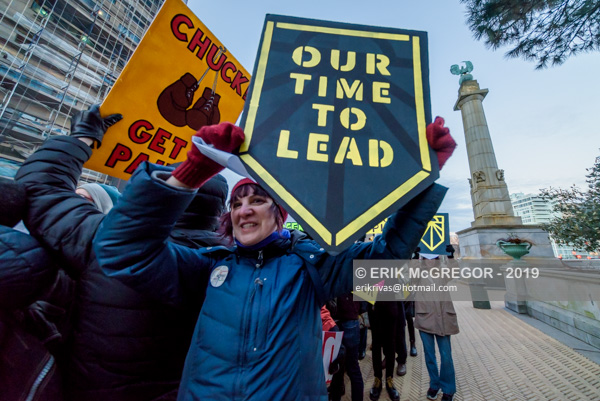 In NYC, more than one hundred New Yorkers affiliated with Sunrise Movement gathered in Brooklyn on February 26, 2019 to put the pressure on Senate Minority Leader Chuck Schumer to join Senator Gillibrand in co-sponsoring the Green New Deal Resolution and uniting the Democrats against Mitch McConnell's divisive tactics.
The Green New Deal Resolution is the only plan on the table that adequately addresses the scale of the climate crisis while emphasizing the needs of working people. 84 Democrats in the House and 11 senators have already signed onto the Green New Deal resolution, including 13 New Yorkers.
As the top Senate Democrat and a representative of a progressive state with ambitious clean energy goals, it is time for Senator Schumer step it up and lead on climate.
On February 7th, Senator Ed Markey Representative Alexandria Ocasio-Cortez introduced the Green New Deal Resolution. Two weeks later, Senate Minority Leader Chuck Schumer has STILL NOT signed on to support the resolution, even after TWELVE other New York politicians have given their support.
As New Yorkers, we have a special role to play. We need to support Minority Leader Schumer in keeping his caucus united against the lies and corruption of #OilMoneyMitch.
We also need to make clear that our senator must co-sponsor the resolution, the only shot New Yorkers have to avoid catastrophic damage to our city.
© Erik McGregor – erikrivas@hotmail.com – 917-225-8963
PLEASE CONSIDER SUPPORTING MY WORK