NEW YORK, NY – Activist group Rise And Resist in New York City put out a call for a demonstration on February 15, 2019 at the Trump Hotel in Columbus Circle, after Donald Trump declared a national emergency to allow the administration diverting billions of federal dollars to the construction of the U.S.-Mexico border wall.
The NYPD arrested 20 protesters challenging the closing of the public sidewalk in front of the Trump International Hotel where the group intended to march through.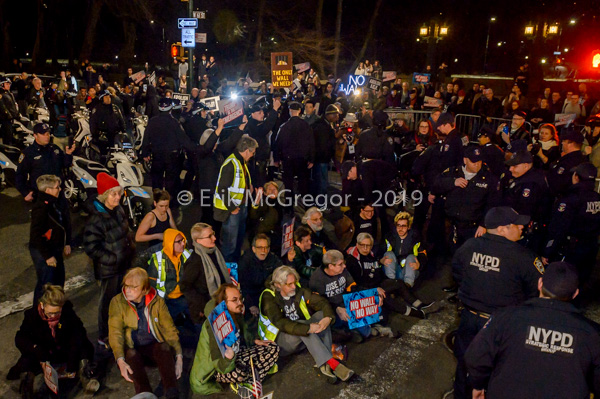 Hundreds of people from all walks of life will demonstrate at New York City's Trump Hotel, with the message that Trump's national emergency is an unnecessary executive power grab in an effort to appeal to his base, rather than a response to an actual emergency. Congress refused Trump's appeal for billions in funding for a border wall, and Trump's use of a national emergency to free up money for the project is unconstitutional and a dangerous precedent to set. A similar protest was held at Union Square by Movimiento Cosecha.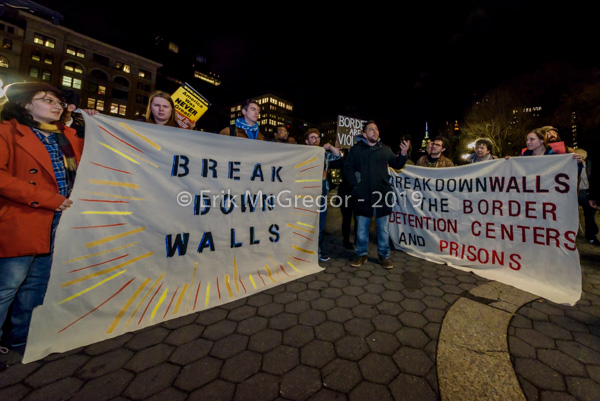 Trump signed an agreement to reopen the government on January 25, 2019 for three weeks as budget negotiations continue, after forcing a 35-day shutdown over Congress' refusal to include funding for a border wall the the budget. Close to 800,000 federal employees were either furloughed or forced to work without pay during the shutdown.
Trump threatened that if Congress did not agree to fund a border wall by February 15, 2019, he would declare a national state of emergency in order to secure the funding himself.
Yesterday, Congress voted on a budget to keep the government open that includes $1.4 billion for the border – less than the $5.7 billion Trump demanded for his border wall.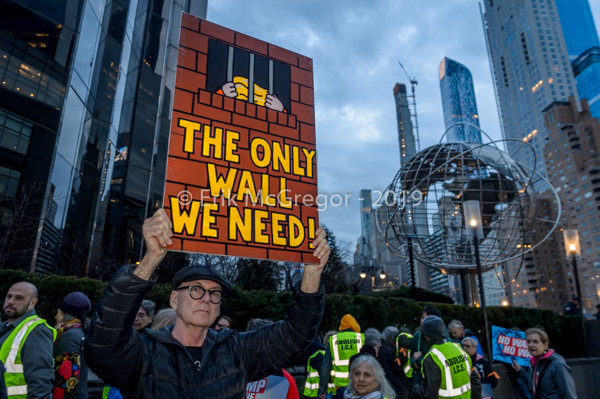 This morning, Donald Trump declared a national state of emergency in order to justify federal funding for a wall along the United States Southern border. The declaration will allow the Trump administration to divert billions of federal dollars to the construction of his racist, xenophobic, and unpopular border wall.
Under a state of emergency, Trump can order the military to round up immigrants, forcefully stop protests, and detain–even kill–anyone he designates an enemy. He can block the financial transactions of people who hire, house, or provide legal representation to asylum seekers, the majority of whom are women and children. He can seize control of internet traffic, blocking people from accessing social media or websites he doesn't like.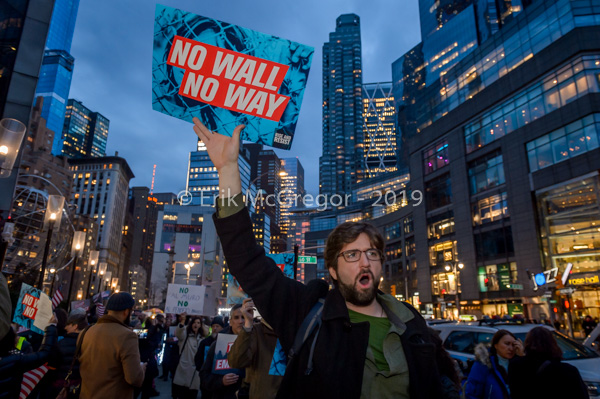 The real national emergency is Trump bypassing the country's laws to appeal to his racist, violent base. The only emergency along the southern border is the humanitarian crisis that he spent the last two years creating by militarizing the border and denying refugees and their children the international right to seek asylum. Congress can't stop Trump from declaring a national emergency, but it has the constitutional power to end the state of emergency.
© Erik McGregor – erikrivas@hotmail.com – 917-225-8963
PLEASE CONSIDER SUPPORTING MY WORK