Thousands of NYC Activists took to the streets to denounce new acting Attorney General's conflict of interest and to support Muller investigation
PLEASE CONSIDER SUPPORTING MY WORK
NEW YORK, NY — Thousands of New Yorkers joined a coalition of grassroots organizations in New York City in a massive demonstration on November 8, 2018 in Times Square to denounce new acting Attorney General Matthew Whitaker may have a conflict of interest and must not oversee the investigation led by Special Counsel Robert Mueller into Russian interference in the 2016 election and related crimes by Trump campaign officials and associates.
Trump's decision to install a loyalist Attorney General Matthew Whitaker who has openly denigrated the Mueller investigation is a deliberate attempt to obstruct the Special Counsel's investigation, which has already produced dozens of indictments and convictions in its effort to uncover whether there was coordination between the President and the Russian government during the 2016 election campaign. Trump's attempt to obstruct the investigation represents a constitutional crisis.
New Yorkers will gather at Times Square this evening to demand Congress hold the President accountable and remind President Trump that he is not above the law. The President may have fired the Attorney General, but he can't fire the truth.
"Donald Trump may attempt to install cronies to interfere in the Mueller investigation and subvert the rule of law, but the Constitution is stronger than Donald Trump, democracy is stronger than Donald Trump, and the people are stronger than Donald Trump," said Andy Ratto, a member of Rise and Resist, and one of the protest organizers. "We will be out in the streets fighting back until we stop him."
"The timing here is not a coincidence," said Shannon Stagman, a member of Empire State Indivisible. "Donald Trump acted while we were still embroiled in midterm elections because he wanted to catch us off guard. But we're always ready to rise up and defend the rule of law."
Activists gathered in Times Square, continued marching down 7th Avenue and 14th Street to Union Square, where speakers and musicians took stage from 6:45 till 8:00pm.
The Nobody Is Above the Law coalition demands that Whitaker immediately commit not to assume supervision of the investigation;

We demand that the independent investigation continue under the Special Counsel's office;

We demand that the House Judiciary Committee immediately begin hearings into abuse of power and obstruction of justice by President Trump;

We demand that the Senate create a Watergate-type Select Committee to conduct a broad investigation of the Russia scandals and of Trump's obstruction of the criminal investigation into these matters.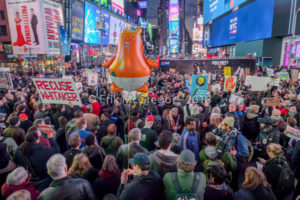 #Activism #collusion #ConflictOfInterest #corruption #DefendDemocracy #demonstration #DirectAction #DumpTrump #FBI #FBIDirector #GOP #HandsOffMueller #impeachment #ImpeachTrump #Investigation #MatthewWhitaker #NewYork #NotMyPresident #NYC #politics #Protest #ResistTrump #RobertMueller #Russia #SpecialCounsel #TimesSquare
© Erik McGregor – erikrivas@hotmail.com – 917-225-8963